The University of Guyana (UG) and the Guyana Telephone and Telegraph Company (GTT), after launching Money Mobile Guyana (MMG) last month for students to make easy tuition payments, on Friday signed a Memorandum of Understanding to solidify the deal.
Last month, the Ministry of Finance, GTT and UG launched a new payment plan that would be convenient for students to pay their tuition fees on their cellphones via the MMG application. On Friday, UG Vice-Chancellor Professor Ivelaw Griffith and GTT CEO Justin Nedd met to formally sign the MMG agreement that would benefit both international and local students at the university.
Speaking at the event, Griffith noted that the new payment system would be beneficial to the some 8,000-plus students who attend the institution. It was confirmed that 60 percent of the student population on the university make cash payments annually, and this new payment system is aimed at helping them make the process easier. Griffith also mentioned how convenient the new system will be for international students who return to their homes after a semester break, as they will not need to travel back to pay their fees.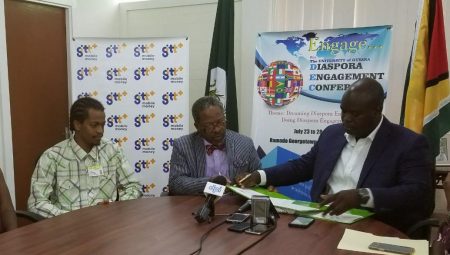 The professor said that apart from the convenience for their students, it is also useful for the Bursary Department of the university. He noted that the MMG app, allows the Bursary to make a quicker turnaround to process student registration among other things, enhancing service delivery. "One of the central reasons that any university exists is to serve the main constituency which is the students and part of what we intend as the university to do is to enhance the nature, scope and significance of service to our students," Griffith added.
He also mentioned that what was captured in the agreement is that the partnership with GTT is to have other tangible elements to it, which will enable GTT to give to UG and its students additional benefits that will go to sports, medical services and other areas.
Meanwhile, University of Guyana Student Society President Ron Glasgow said that the student population would appreciate the new payment avenue provided by GTT and the university. While noting the significance of the MMG app, he described its service as "up to date, quick and convenient," noting that the old process of standing in a line to make payments was "primitive."
Nedd said that apart from students paying tuition fees, they can also pay graduation fees, registration fees, summer registration fees, and any other additional fees that students are required to pay. Students are required to download the MMG app to start, enter their UG registration number, the amount they wish to pay and press send. A service fee of $100 would be attached to each transaction. Students can pay a minimum of $500 to a maximum of $60,000 in one go, however a student can pay $100,000 per day in their transactions to the university via the MMG app.
Comments

Lawrence Duprey (Trinidad Express) Former executive chairman of CL Financial Lawrence Duprey was ordered by a Florida judge in July to pay more than US$60 million to British American Insurance Company (BAICO) in damages in relation to the TT$1.9 billion Green Island project in Osceola County, Florida.

Bharrat Jagdeo The PPP/C is committed to constitutional reform, says Opposition Leader Bharrat Jagdeo.

Ray Lengend Ray Lengend who went on a fire-bombing spree of mosques throughout southeast Queens, this week pleaded guilty to the crimes against Muslims who the 45-year-old Guyanese man claimed in 2012 had been "trying to take over his life", according to the Times Ledger in Queens, New York.

BEIJING/SEOUL, (Reuters) – A small earthquake near North Korea's nuclear test site on Saturday was probably not manmade, the nuclear proliferation watchdog and a South Korean official said, easing fears Pyongyang had exploded another nuclear bomb just weeks after its last one.

Damaged electrical installations are seen after the area was hit by Hurricane Maria en Guayama, Puerto Rico September 20, 2017.