Murder accused Stafrei Alexander, who was one of the six inmates who escaped from the Camp Street Prison on July 9, has been recaptured.
'B' Division Commander Paul Williams confirmed to Stabroek News that Alexander was recaptured in Berbice.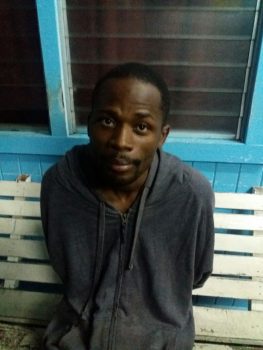 Police subsequently said Alexander was recaptured at 8 pm in an unfenced yard in Topoo Village, without any incident.
Meanwhile, the Department of Public Information (DPI) subsequently reported acting Police Commissioner David Ramnarine as saying that Hopkinson's arrest follows a special operation that was launched in Berbice with support from Police Headquarters based on information received from members of the public.
"At the time of his re-capture Alexander had an existing wound and is receiving medical attention at an undisclosed medical institution. While the nature of the wound has not been confirmed at this time, it is believed he sustained the wound during a previous confrontation with the Joint Services," the DPI report stated.
It added that the Guyana Police Force thanks the members of the public who provided the information which led to Alexander's capture and asks that the public continue to provide information which is critical to the re-capture of all the prison escapees.
A bulletin issued after the jailbreak had said Alexander, 32, was wanted for questioning in relation to murder and escaping from lawful custody.
Alexander, also known as "Anthony Williams" and "Ratty," has been charged with three murders, including that of Linden businesswoman Shevon Gordon and a co-accused in the crime.
Police in Berbice had launched a manhunt for Alexander in the Port Mourant backlands on the Corentyne just over a week ago.
Then 'B' Division Commander Ian Amsterdam had said investigators received reliable information that Alexander was spotted in the Port Mourant area. A senior police source had said that lawmen were told that Alexander knew the backlands very well.
With Alexander's arrest, only three Camp Street escapees remain on the run—Bartica massacre convict Mark Royden Williams, murder accused Uree Varswyk, and drug accused Cobena Stephens, also known as 'OJ.'
Comments

Photos by Keno George The start of the consideration of the estimates of the revenue and expenditure for 2018 descended into chaos yesterday when opposition MPs faced off against police over a bid to physically remove member Juan Edghill from the parliament chamber and PPP/C members claim they were assaulted in the ensuing melee.

The body of an 18-year-old Qualfon employee was yesterday morning discovered in a cemetery at Triumph, East Coast Demerara with her face mutilated and the police have since arrested five persons for questioning.

Acting Chief Justice Roxane George has ruled that President David Granger acted unlawfully when he revoked the leases for lands belonging to a group of Seafield, West Coast Berbice farmers.


Jason Abdulla, one of the three men charged with dousing newspaper columnist Freddie Kissoon with human faeces, was sentenced to six months in jail yesterday, while his two co-accused in the crime, fellow PPP member Kwame McCoy and former bodyguard Sean Hinds, were found not guilty.

Former acting Chancellor of the Judiciary Carl Singh yesterday rejected claims by the Attorney General's Chambers linking him to a purported about-face by the Council of Legal Education (CLE) on the establishment of a local law school.