Murder accused Stafrei Alexander, who was one of the six inmates who escaped from the Camp Street Prison on July 9, has been recaptured.
'B' Division Commander Paul Williams confirmed to Stabroek News that Alexander was recaptured in Berbice.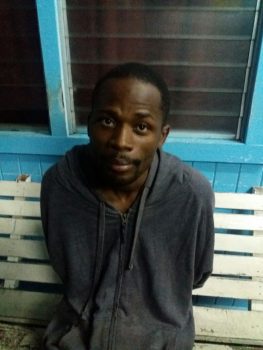 Police subsequently said Alexander was recaptured at 8 pm in an unfenced yard in Topoo Village, without any incident.
Meanwhile, the Department of Public Information (DPI) subsequently reported acting Police Commissioner David Ramnarine as saying that Hopkinson's arrest follows a special operation that was launched in Berbice with support from Police Headquarters based on information received from members of the public.
"At the time of his re-capture Alexander had an existing wound and is receiving medical attention at an undisclosed medical institution. While the nature of the wound has not been confirmed at this time, it is believed he sustained the wound during a previous confrontation with the Joint Services," the DPI report stated.
It added that the Guyana Police Force thanks the members of the public who provided the information which led to Alexander's capture and asks that the public continue to provide information which is critical to the re-capture of all the prison escapees.
A bulletin issued after the jailbreak had said Alexander, 32, was wanted for questioning in relation to murder and escaping from lawful custody.
Alexander, also known as "Anthony Williams" and "Ratty," has been charged with three murders, including that of Linden businesswoman Shevon Gordon and a co-accused in the crime.
Police in Berbice had launched a manhunt for Alexander in the Port Mourant backlands on the Corentyne just over a week ago.
Then 'B' Division Commander Ian Amsterdam had said investigators received reliable information that Alexander was spotted in the Port Mourant area. A senior police source had said that lawmen were told that Alexander knew the backlands very well.
With Alexander's arrest, only three Camp Street escapees remain on the run—Bartica massacre convict Mark Royden Williams, murder accused Uree Varswyk, and drug accused Cobena Stephens, also known as 'OJ.'
Comments

The GPSU on the left and the government.(Ministry of the Presidency photo) The GPSU has rejected the government's wage increase offer for 2017.

Venezuelan citizens wait in line at a polling station during a nationwide election for new governors in Caracas, Venezuela, October 15, 2017.

Harry Ragoonanan (Trinidad Guardian) Prominent south businessman Harry Ragoonanan says he plans to challenge to his suspension from the People's National Movement (PNM).

Five persons – including a mother and two of her children – were killed yesterday in a head-on collision between a car and a paddy truck along the Number 59 Village Public Road, Corentyne.

A confrontation over the use of land at Cane Grove Backdam, Mahaica, turned deadly yesterday when a father and son were attacked and chopped.