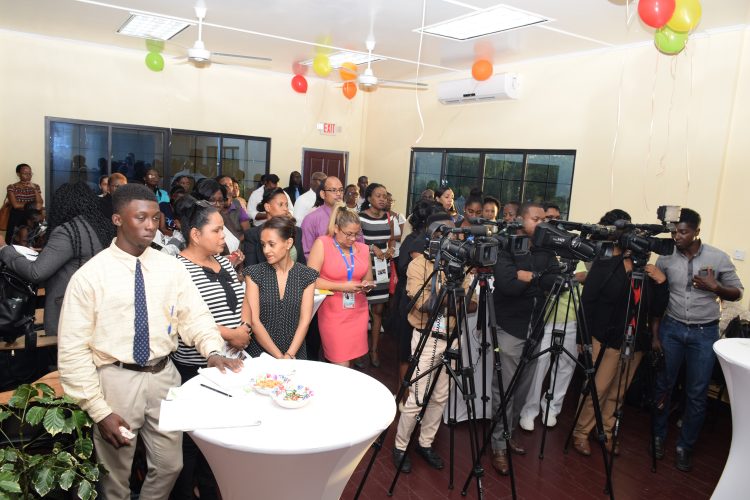 The University of Guyana's Faculty of Social Sciences in collaboration with the Ministry of Social Protection, the United Nations Children's Fund (UNICEF), and York University launched a Master's in Social Work programme at its Turkeyen Campus on Wednesday.
A release from the Department of Public Information (DPI) said that the master's programme will enable 26 social work graduates to further their studies and obtain a master's degree. The Ministry will sponsor eight of the 26 students taking part in the one-year programme.
"The importance of Social Work cannot be underestimated" remarked Mohan Ramrattan, Deputy Permanent Secretary of the Ministry of Social Protection.
Monica Miller, Head of the Sociology Department said that the journey to having such a programme began four years ago.  Barbara Heron, the co-ordinator from York University said that the level of organisation, and support from all parties involved, was overwhelming. Heron and six other professors will be lecturing in the Master's programme over the coming months, DPI said.
Comments

Despite the AFC's claim that it was not involved in the selection of a Guyana Elections Commission (Gecom) Chairman, its two senior leaders, Khemraj Ramjattan and Raphael Trotman, had advised President David Granger that he could utilise the constitutional proviso and make a unilateral appointment.

The National Assembly last evening approved over $8 billion in total budgetary allocations for 16 constitutional agencies even as the government's failure to properly account for cuts to requested expenditure drew criticism.

Opposition MPs were yesterday reprimanded by Speaker Dr Barton Scotland for their raucous behaviour on November 2nd, when they staged a protest that drowned out most of President David Granger's address to the National Assembly.

Ex-policeman Lloyd Roberts, who was accused of murdering Ryan Sergeant, the teen who was fatally shot outside of the Rio Inn nightclub last year, was yesterday freed after a court found that there was insufficient evidence for him to stand trial.

Although some municipal workers continued protest action yesterday over the nonpayment of their salaries for October, the Mayor and City Council (M&CC) has said that it has completed its payroll.