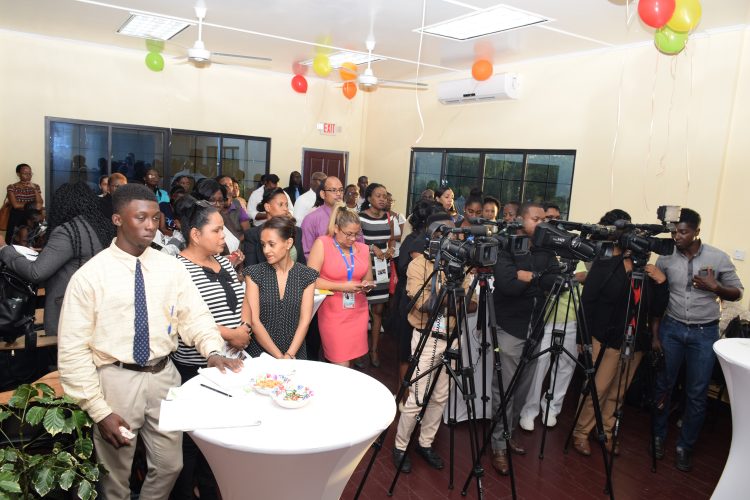 The University of Guyana's Faculty of Social Sciences in collaboration with the Ministry of Social Protection, the United Nations Children's Fund (UNICEF), and York University launched a Master's in Social Work programme at its Turkeyen Campus on Wednesday.
A release from the Department of Public Information (DPI) said that the master's programme will enable 26 social work graduates to further their studies and obtain a master's degree. The Ministry will sponsor eight of the 26 students taking part in the one-year programme.
"The importance of Social Work cannot be underestimated" remarked Mohan Ramrattan, Deputy Permanent Secretary of the Ministry of Social Protection.
Monica Miller, Head of the Sociology Department said that the journey to having such a programme began four years ago.  Barbara Heron, the co-ordinator from York University said that the level of organisation, and support from all parties involved, was overwhelming. Heron and six other professors will be lecturing in the Master's programme over the coming months, DPI said.
Comments

WASHINGTON, (Reuters) – The world's most powerful government shut down today after President Donald Trump and the U.S.

-number of redundant workers at 4,763 The National Assembly yesterday approved nearly $2 billion to facilitate full severance by the end of January for a little more than 1,600 of the 4,763 sugar workers that have been made redundant.

Following criticism over government's handling of the restructuring of the Guyana Sugar Corporation (GuySuCo), President David Granger and members of his Cabinet yesterday met with the leadership of the Guyana Agricultural and General Workers' Union (GAWU) and the National Association of Agricultural, Commercial and Industrial Employees (NAACIE) to discuss the future of the sugar industry.
An 18-year-old woman succumbed on Thursday evening, one day after she was allegedly beaten by her common-law husband during an argument at Baramita, in Region One (Barima-Waini).
In his absence, Ganesh Chaitram, who was charged with raping a 10-year-old girl in 2016, was yesterday sentenced to life in prison after a jury found him guilty of the crime.