A family preparing for a memorial service today was attacked by armed bandits in East La Penitence and one brother succumbed to bullet wounds and two others have been admitted to hospital.
Police identified the dead brother as Fazal Shaheed, 58, self employed of 18 Albion, Corentyne, Berbice. Two other brothers who had come from overseas for the memorial were injured and are now hospitalized. The police have identified them as Talin Shaheed, 50, of Toronto, Canada and Shalim Shaheed,53, of the USA.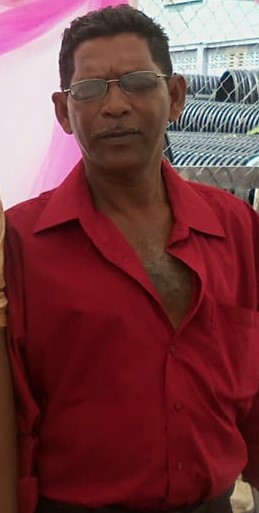 The police said that two masked men carried out the attack and one was armed with a handgun. One person has since been taken into custody, the police say.
It is believed that the bandits targeted the house in the knowledge that two overseas relatives had arrived.
Police say that the bandits gained access into the house via a door that was opened and pounced upon the victims who were in the living room area.  The bandits relieved them of their jewellery and discharged several rounds at the brothers before fleeing the scene. The victims were rushed to the GPHC. Fazal succumbed about 2 am whilst undergoing a surgery; the others who received gunshot injuries to their abdomens were treated and admitted. Their conditions are said to be stable.
Several spent shells have been retrieved from the scene by investigators who are currently working on several leads in order to quickly bring the perpetrators to justice. A male suspect from East La Penitence has since been taken into custody and is assisting with the investigation.
Comments

MUMBAI, (Reuters) – Opener Rohit Sharma smashed his third one-day international double century to set up India's comprehensive 141-run win against Sri Lanka in the second match of the series at Mohali today.

President David Granger this morning said that he is responsible for the US$18M ExxonMobil signing bonus being put into an escrow account at the Bank of Guyana, a decision he believes was necessary at the time so that Guyana could be prepared for a National Security Emergency.

(Trinidad Guardian) Ramraj Samaroo yesterday appeared in the Couva Magistrates Court charged with the murder of his younger brother.

Auditor General Deodat Sharma has started investigating the failure by government to transfer the US$18 million signing bonus paid by ExxonMobil last year to the Consolidated Fund, in keeping with the Constitution.

Suspended PPP/C Member of Parliament (MP) Bishop Juan Edghill was yesterday arrested after an attempt to enter the compound of the Public Buildings, where the resumption of the consideration of the national budget estimates saw a brief opposition walkout over House Speaker Dr Barton Scotland's decision to allow the approval without scrutiny of allocations slated to be examined at the previous day's disrupted session.