A family preparing for a memorial service today was attacked by armed bandits in East La Penitence and one brother succumbed to bullet wounds and two others have been admitted to hospital.
Police identified the dead brother as Fazal Shaheed, 58, self employed of 18 Albion, Corentyne, Berbice. Two other brothers who had come from overseas for the memorial were injured and are now hospitalized. The police have identified them as Talin Shaheed, 50, of Toronto, Canada and Shalim Shaheed,53, of the USA.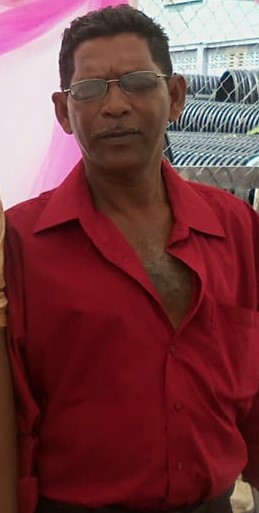 The police said that two masked men carried out the attack and one was armed with a handgun. One person has since been taken into custody, the police say.
It is believed that the bandits targeted the house in the knowledge that two overseas relatives had arrived.
Police say that the bandits gained access into the house via a door that was opened and pounced upon the victims who were in the living room area.  The bandits relieved them of their jewellery and discharged several rounds at the brothers before fleeing the scene. The victims were rushed to the GPHC. Fazal succumbed about 2 am whilst undergoing a surgery; the others who received gunshot injuries to their abdomens were treated and admitted. Their conditions are said to be stable.
Several spent shells have been retrieved from the scene by investigators who are currently working on several leads in order to quickly bring the perpetrators to justice. A male suspect from East La Penitence has since been taken into custody and is assisting with the investigation.
Comments

An international firm will advise the Guyana Government on how to market the country's remaining unassigned oil blocks, according to Natural Resources Minister Raphael Trotman.

Minister of State Joseph Harmon has berated Auditor General Deodat Sharma for publicly commenting on the ongoing investigation of the D'Urban Park Development Project and for reaching out to a private company for information instead of the government.

Skeletal remains, suspected to be those of an elderly Plaisance resident, were yesterday discovered in the ruins of the Victoria Road, Plaisance, East Coast Demerara apartment building that was razed by a mystery fire on Friday.

Two business owners say they are now counting millions of dollars in losses after a fire, suspected to have been started by a child playing with matches, gutted a stall and a bond in the Parika Market Centre yesterday morning.
Following the revamping of a road project, US$10 million (G$2 billion) from an Inter-American Development Bank (IDB) loan will go towards housing subsidies in Sophia, Cummings Lodge and nearby areas.