A family preparing for a memorial service today was attacked by armed bandits in East La Penitence and one brother succumbed to bullet wounds and two others have been admitted to hospital.
Police identified the dead brother as Fazal Shaheed, 58, self employed of 18 Albion, Corentyne, Berbice. Two other brothers who had come from overseas for the memorial were injured and are now hospitalized. The police have identified them as Talin Shaheed, 50, of Toronto, Canada and Shalim Shaheed,53, of the USA.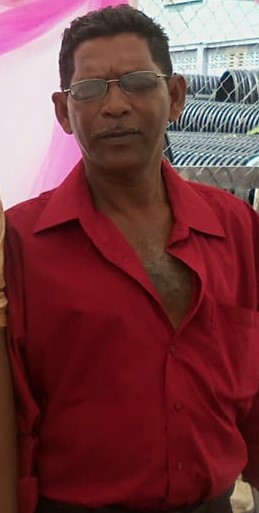 The police said that two masked men carried out the attack and one was armed with a handgun. One person has since been taken into custody, the police say.
It is believed that the bandits targeted the house in the knowledge that two overseas relatives had arrived.
Police say that the bandits gained access into the house via a door that was opened and pounced upon the victims who were in the living room area.  The bandits relieved them of their jewellery and discharged several rounds at the brothers before fleeing the scene. The victims were rushed to the GPHC. Fazal succumbed about 2 am whilst undergoing a surgery; the others who received gunshot injuries to their abdomens were treated and admitted. Their conditions are said to be stable.
Several spent shells have been retrieved from the scene by investigators who are currently working on several leads in order to quickly bring the perpetrators to justice. A male suspect from East La Penitence has since been taken into custody and is assisting with the investigation.
Comments

The Alliance For Change (AFC) this evening said that President David Granger's appointment of a chairman of the Guyana Elections Commission "has averted a looming constitutional crisis".

The PSC Secretariat on Waterloo Street. The Private Sector Commission (PSC) today said that the President's decision to unilaterally appoint a Chairman of GECOM poses a clear threat to democracy.

Zimbabwean President Robert Mugabe and his wife Grace attend a meeting of his ruling ZANU PF party's youth league in Harare, Zimbabwe, October 7, 2017.

Vladimir Inuma, a deputy leader of an association of the 92 families who vow to stay put in the Cantagallo slum, poses for a portrait in downtown Lima, Peru, September 9, 2017.

President David Granger yesterday unilaterally chose retired justice James Patterson, 84, to be Chairman of GECOM, rejecting a third list that had been submitted by Opposition Leader Bharrat Jagdeo and plunging the country into its worst political crisis since APNU+AFC came to power in 2015.