Charged last month with threatening the mother of the man he had been accused of killing, Regan Rodrigues aka 'Grey Boy', was yesterday sentenced to three months for the crime.
The charge against Rodrigues stated that on August 12, at Regent and Wellington streets, he made use of threatening language to Donna Harcourt.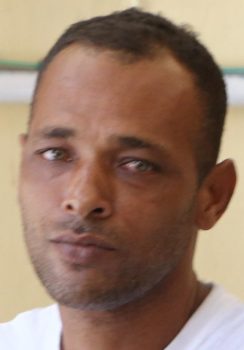 Trial Magistrate Dylon Bess found the accused guilty of the crime yesterday, despite Grey Boy's maintenance of his innocence.
Magistrate Bess told the court that based on the whole of the evidence he believed that the accused did threaten Harcourt, and as such sentenced the father of two for the crime.
In June, Rodrigues was freed for the third time of the 2015 murder of Courtney Crum-Ewing, after presiding Magistrate Judy Latchman found that no prima facie case had been made out against him by the state during the preliminary inquiry into the charge.
Comments

A Brooklyn, New York  man was convicted of manslaughter yesterday for shooting a Guyanese high school girl who authorities said he wanted to date.

(Trinidad Guardian) Soca superstar Machel Montano and music producer Kernal Roberts have won their appeal against their convictions for assaulting a group of friends at a nightclub, almost a decade ago.

By December 29, approximately 4,000 employees across the sugar industry will be without a job, the Guyana Sugar Corporation (GuySuCo) says.
While stating that he is deeply concerned about the significant gap in the appointment of a substantive Chancellor of the Judiciary and Chief Justice, President David Granger yesterday said that he is working to have this issue resolved at the earliest opportunity.
Speaker of the National Assembly, Dr Barton Scotland yesterday disallowed a motion by  PPP/C MP Irfaan Ali to adjourn the budget deliberations in order to facilitate a debate on the controversial US$18 million ExxonMobil signing bonus.