A well-known city businessman was fatally shot by a bandit yesterday afternoon.
According to reports reaching Stabroek News, Godfrey Scipio, 64, of D'Urban Street, also known as 'Saga', was in Kitty when he was robbed at gunpoint and subsequently shot several times. The man was rushed to the Woodlands Hospital where he died around 8:00 pm.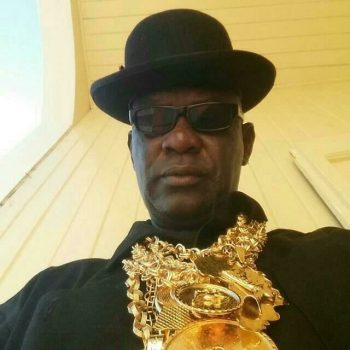 Family members and close friends gathered at the hospital last night and broke down in tears after they confirmed that Scipio had died from his injuries. They all said  that they are unsure of what happened and all rushed from their respective homes when they heard of the news.
Scipio was a well-known businessman around the Stabroek Market area as he owned a wholesale and retail business near the Berbice bus park. The man was known for wearing heavy gold jewellery and was remembered by his family for being a jovial and easy going person who was friends with everyone.
Up to press time last night the police were unable to give any details on what transpired. According to police sources, they were not alerted to the incident until the man was taken to the hospital.
"We received a report about a suspect  going to the hospital with gunshot wounds but it wasn't until we got there that we realized it wasn't a suspect but a victim," a source revealed to Stabroek News. No one has been arrested as yet.
The police this afternoon issued the following release on the murder:
Police are investigating an alleged robbery/murder committed on Godfrey Scipio, a.k.a 'Saga' 58, a businessman, of Lot 'ZZ' 22 Durban Street, Wortmanville, Georgetown, which occurred about 1620h. on 2017-10-12, at Stanley Place, Kitty.
Initial investigation have revealed that the deceased picked up his fiancé and went to a city hotel, and as they were entering his vehicle, a lone gunman pounced on them and demanded cash and jewellery, the suspect discharged a round hitting Scipio in the abdomen and relieved him of his jewellery and escaped on foot in a northern direction.
Godfrey Scipio was taken to a city Hospital where he succumbed to his injuries while receiving medical treatment.
The body is at the Lyken's Funeral Parlour awaiting a post mortem examination.
A 26 years old man is in police custody assisting in this investigations.
Comments

Saying that the Special Organised Crime Unit (SOCU) needs to focus on "quality investigations", the Chambers of the Director of Public Prosecutions (DPP) today said that it is reviewing for the second time a file sent by SOCU on an ongoing controversy with the Guyana Bank for Trade Industry (GBTI) over the release of banking information.

The Mayor and City Council (M&CC) today dismissed the constabulary officer who is alleged to have sexually assaulted a minor being detained by the City Constabulary.

Workers clear the rubble from the scene of last Saturday explosion in KM4 street in the Hodan district in Mogadishu, Somalia October 17, 2017.

Brendan Taylor   BULAWAYO, Zimbabwe, (Reuters) – Former captain Brendan Taylor and bowler Kyle Jarvis were both included in the Zimbabwe test squad for the first time after lengthy absences when a 16-man party was named on Tuesday for the two-test series at home to the West Indies.

With GuySuCo retrenching 2,500 more workers by the end of the year, the main sugar union GAWU has again appealed for it to rethink the closure of estates.