Trudy Samuels, who was charged with the fatal stabbing of an in-law over jokes he did not like, yesterday pleaded guilty to a charge of manslaughter.
Samuels, who appeared before Justice Brassington Reynolds at the High Court in Georgetown, accepted that on February 22 of last year, he unlawfully killed his cousin-in-law, Joseph Jaundoo, also known as 'Teddy.'
He earlier denied a murder charge that was laid against him, but admitted guilt to unlawfully killing Jaundoo at Santa Mission, Kamuni Creek.
Samuels was 22-years-old at the time of the killing.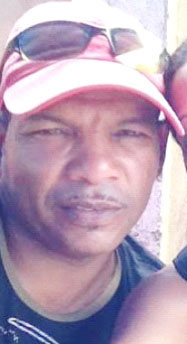 The state's case is that the men were drinking alcohol at a 'wake' house' in the community, where jokes were reportedly made. The jokes were not taken lightly by Samuels, and there was an altercation between the two men.
Persons parted them, after which Jaundoo proceeded home.
However, Samuels, who was armed with a knife, subsequently followed Jaundoo home and stabbed him several times.
The 42-year-old Jaundoo was pronounced dead by the time he was rushed to the hospital.
Samuels is to be sentenced on October 26, pending the presentation of a probation report.
Prosecutor Shawnettte Austin, in association with Lisa Cave and Tiffini Lyken, is representing the state in the case.
Comments
After two years, President David Granger will on Friday hold a press conference,  only the second since his APNU+AFC party came into government in May 2015.

Juan Edghill (left) in the Brickdam Police Station this morning. (Keno George photo) PPP/C Members of Parliament this morning walked out of the Committee of Supply following Chairman Dr.

WELLINGTON, (Reuters) – New Zealand's bowlers steadily chipped away at the West Indies lineup to record a ruthless 240-run victory shortly before tea on the fourth day of the second test at Seddon Park in Hamilton on Tuesday to wrap up a 2-0 series sweep.

(Trinidad Guardian) Special Reserve police officer Richard Babwah was killed last evening during an attempted robbery at a Chinese restaurant in Arouca.

Photos by Keno George The start of the consideration of the estimates of the revenue and expenditure for 2018 descended into chaos yesterday when opposition MPs faced off against police over a bid to physically remove member Juan Edghill from the parliament chamber and PPP/C members claim they were assaulted in the ensuing melee.