Trudy Samuels, who was charged with the fatal stabbing of an in-law over jokes he did not like, yesterday pleaded guilty to a charge of manslaughter.
Samuels, who appeared before Justice Brassington Reynolds at the High Court in Georgetown, accepted that on February 22 of last year, he unlawfully killed his cousin-in-law, Joseph Jaundoo, also known as 'Teddy.'
He earlier denied a murder charge that was laid against him, but admitted guilt to unlawfully killing Jaundoo at Santa Mission, Kamuni Creek.
Samuels was 22-years-old at the time of the killing.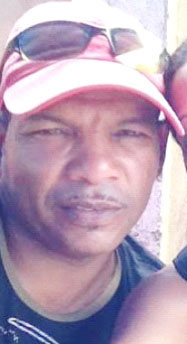 The state's case is that the men were drinking alcohol at a 'wake' house' in the community, where jokes were reportedly made. The jokes were not taken lightly by Samuels, and there was an altercation between the two men.
Persons parted them, after which Jaundoo proceeded home.
However, Samuels, who was armed with a knife, subsequently followed Jaundoo home and stabbed him several times.
The 42-year-old Jaundoo was pronounced dead by the time he was rushed to the hospital.
Samuels is to be sentenced on October 26, pending the presentation of a probation report.
Prosecutor Shawnettte Austin, in association with Lisa Cave and Tiffini Lyken, is representing the state in the case.
Comments

HARARE, Zimbabwe, CMC – West Indies received a rousing welcome at the Robert Gabriel Mugabe International Airport here Sunday evening as they became the first team to arrive for the ICC World Cup Qualifiers starting next month.
A corporal of the Joint Services and another male  have been taken into custody following an investigation into the alleged robbery under arms committed on a 43-year-old Chief Prison Officer which occurred about 01:00h yesterday on the  Soesdyke Public Road, EBD by four males, one of whom was armed with a knife.

(Trinidad Guardian) Networks of the ISIS cell in T&T which Prime Minister Dr Keith Rowley referred to in Parliament are spread from Aranjuez, Charlieville and Enterprise to Rio Claro among other locations, a national security official has said.

Government yesterday released the Production Sharing Agreement (PSA) signed by the former Donald Ramotarled PPP/C administration with Canadian miner CGX Resources Inc, the terms of which appear to be almost identical to those of the much maligned 2016 agreement signed by the current administration with ExxonMobil's local subsidiary and its partners.

Seeking advances on future revenue from ExxonMobil should be under discussion, according to United States-based Guyanese business professor and accountant Floyd Haynes, who says the benefits for a developing nation like ours are incalculable and can outweigh the disadvantages "I think it should be considered.