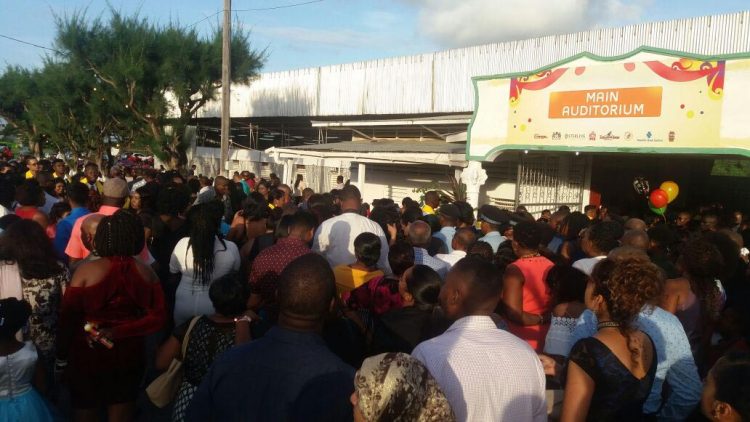 Vice Chancellor of the University of Guyana, Professor Ivelaw Griffith has admitted that the Sophia Exhibition Centre was not an optimal location for the university's 51st Convocation.
Speaking with Stabroek News yesterday Griffith said that while student complaints about the space have been acknowledged the university did the best it could under the circumstances.
"The accommodation was the least best option when the size of the class and inclement weather made clear that using Turkeyen was not feasible. It really was the best of a bad lot," Griffith said adding that the university had to enact repairs to the roofing and rehabilitate the washrooms to make it more suitable. ….
To continue reading this article
Comments

Prime Minister Moses Nagamootoo yesterday called on the Opposition to put to an end their dilatory tactic because it violates the standing order of the National Assembly.                    

(Trinidad Guardian) Stop embarrassing the Chinese government and people! That was Prime Minister Dr Keith Rowley's rebuke to the Opposition in Parliament yesterday, after being pressed on the change of plans for his China trip.

Despite the AFC's claim that it was not involved in the selection of a Guyana Elections Commission (Gecom) Chairman, its two senior leaders, Khemraj Ramjattan and Raphael Trotman, had advised President David Granger that he could utilise the constitutional proviso and make a unilateral appointment.

The National Assembly last evening approved over $8 billion in total budgetary allocations for 16 constitutional agencies even as the government's failure to properly account for cuts to requested expenditure drew criticism.

Opposition MPs were yesterday reprimanded by Speaker Dr Barton Scotland for their raucous behaviour on November 2nd, when they staged a protest that drowned out most of President David Granger's address to the National Assembly.