The two prime suspects in the murder of Sophia resident Jamal Munroe, including the alleged shooter, were arrested on Friday.
Public Relations Officer of the Guyana Police Force Jairam Ramlakhan confirmed that suspects, an 18-year-old and a 31-year-old, both also of Sophia, were taken into custody and are assisting police with investigations.
Two other persons, including a female security guard, who is said to be the mother of the alleged shooter, were initially arrested. The woman allegedly provided her son with her service weapon, which was used to commit the crime.
Munroe, 24, a labourer of 'C' Field, Sophia, died on the evening of November 3 after he was shot multiple times about his body during a row.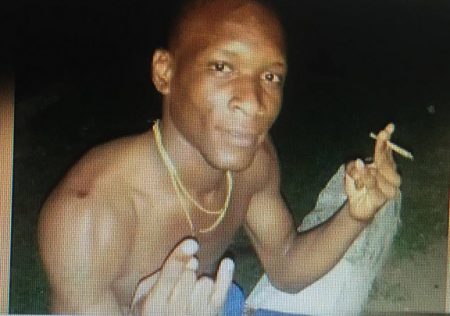 He sustained gunshot wounds to his legs, his lower back and his left hand. He was taken to the Georgetown Public Hospital, where he succumbed while receiving medical attention.
The shooting occurred along the 'C' Field Access Road, around 10.45 pm.
The police, in a press release, had said that investigations revealed that Munroe and the suspect had an argument, during which he was shot.
While Stabroek News was told that Munroe's girlfriend was at the centre of the argument between him and his assailant, the woman refuted the claims. She said Munroe was shot during an encounter with the suspect over a cell phone that was stolen from her.
This newspaper was told that Munroe's girlfriend reportedly misplaced her cell phone at a shop and she subsequently saw the suspect picking up the phone when reviewing surveillance footage. As a result, a report was made to the Turkeyen Police Station and the suspect and his mother were taken into custody. They were later released after an agreement was reached to have the phone returned to its owner.
Munroe reportedly learnt of the incident and approached the suspect, resulting in the shooting.
Comments

An international firm will advise the Guyana Government on how to market the country's remaining unassigned oil blocks, according to Natural Resources Minister Raphael Trotman.

Minister of State Joseph Harmon has berated Auditor General Deodat Sharma for publicly commenting on the ongoing investigation of the D'Urban Park Development Project and for reaching out to a private company for information instead of the government.

Skeletal remains, suspected to be those of an elderly Plaisance resident, were yesterday discovered in the ruins of the Victoria Road, Plaisance, East Coast Demerara apartment building that was razed by a mystery fire on Friday.

Two business owners say they are now counting millions of dollars in losses after a fire, suspected to have been started by a child playing with matches, gutted a stall and a bond in the Parika Market Centre yesterday morning.
Following the revamping of a road project, US$10 million (G$2 billion) from an Inter-American Development Bank (IDB) loan will go towards housing subsidies in Sophia, Cummings Lodge and nearby areas.