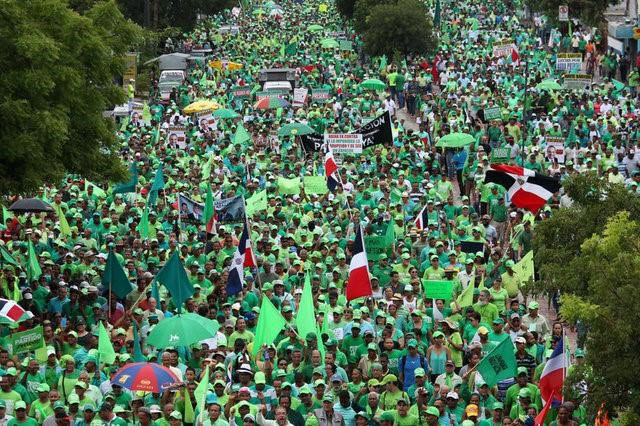 SANTO DOMINGO,  (Reuters) – Tens of thousands of protesters flooded the streets of the capital of the Dominican Republic yesterday in the biggest demonstration of anger over corruption in decades following a landmark bribery case against top officials.
Demonstrators, mostly young and dressed in the green colour of the country's environmental movement, overflowed across a six-lane thoroughfare in Santo Domingo, waving the red, blue and white Dominican flag as they chanted demands for the president and other top officials to resign.
The protest was the biggest of seven demonstrations since January that followed an investigation revealing executives from Brazilian engineering company Odebrecht paid $92 million in bribes to officials from the poor country that shares a Caribbean island with the even more impoverished Haiti.
"The people have no legal recourse, we have no one to represent us. But the government can't repress them," said businessman Ivan Veloz Cabral, a 69-year-old owner of a small sportswear factory.
Odebrecht has paid $184 million in damages related to the bribery charges and 14 top officials and businessmen have been indicted in the case that has stirred up deep-seated anger over decades of suspected government corruption.
Temistocles Montas, a close ally of President Danilo Medina, and Victor Diaz Rua, the ruling party's treasurer, have been jailed and six others are under house arrest as they await trial. The others who were indicted are out on bail.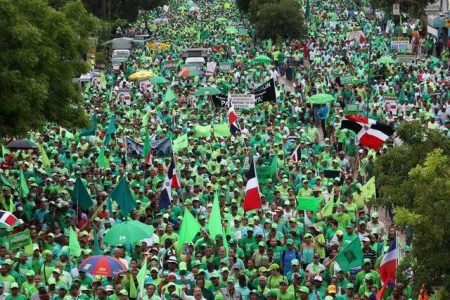 Montas, who denies wrongdoing, resigned as trade minister after the charges.
The scandal is weighing on the ruling Dominican Liberation Party, which will face a presidential election in 2020.
"We can't afford to have the same people in power again," said protester Juan Santos.
Yesterday's march dwarfed relatively large protests over education spending in 2011.
Organizers said Dominican immigrants marched in protests in other cities such as Miami, New York and Madrid as part of the so-called Marcha Verde, or Green March, movement that has staged demonstrations since January.
Demonstrations yesterday were largely peaceful, but previous protests saw clashes with police. Protesters have accused authorities of several beatings and illegal detentions of demonstrators, and a video caught several officers planting drugs in a car of one activist.
Comments

WASHINGTON (Reuters) – President Donald Trump and Republican lawmakers took a tough stance on Saturday after the US Congress failed to fund federal agencies, saying they would not negotiate on immigration until Democrats help end the government shutdown.
WASHINGTON, (Reuters) – US President Donald Trump's presidential campaign on Saturday issued a new video ad calling Democrats "complicit" in murders committed by illegal immigrants, during a government shutdown partly triggered by an impasse over immigration.
TRUJILLO, Peru (Reuters) – A key US cardinal distanced himself on Saturday from comments by Pope Francis on sexual abuse, saying they had caused "great pain," a remarkable move pointing to divisions in the Roman Catholic Church over how to treat accusers.
KABUL (Reuters) – Gunmen attacked Kabul's Intercon-tinental Hotel on Saturday, seizing hostages and exchanging gunfire with security forces as the building in the Afghan capital caught fire and residents and staff fled.
WASHINGTON (Reuters) – Many thousands of women and their male supporters turned out on Saturday for the second Women's March, a nationwide series of protests against US President Donald Trump marking the end of his tumultuous first year in office.