CARACAS,  (Reuters) – Venezuela is preparing an international summit to rally support for an all-powerful lawmaking body, whose recent creation drew widespread foreign condemnation as a power grab by leftist President Nicolas Maduro.
Late last month, and in the face of anti-government street protests, Venezuela elected a 545-member constituent assembly at the behest of Maduro.
On Friday the assembly granted itself lawmaking powers. It was the latest blow to an opposition-controlled congress whose decisions have been nullified by Maduro's loyalist Supreme Court.
The United States slapped Maduro and a number of Venezuela leaders with sanctions, and U.S. President Donald Trump said military action was among the options he was considering for Venezuela.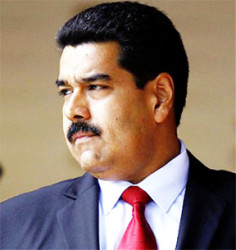 "We have drawn up a plan to call a worldwide solidarity with the people of Venezuela, against Donald Trump's threat and in defense of the constituent assembly," Maduro said in a television interview on Sunday.
"This world summit will have a combination of preparatory events in various countries around the world, and it will start this week," Maduro said.
Maduro said help with organizing the summit would come from a regional bloc called The Community of Latin American and Caribbean States (CELAC).
The constituent assembly was elected on July 30 to rewrite the constitution, which Maduro billed as the only solution to bring about peace after more than four months of deadly opposition protests.
The opposition boycotted the election, calling it an affront to democracy. It wants an early presidential election, which it is sure Maduro will lose as his popularity falls along with an economy blighted by triple-digit inflation and acute shortages of food and medicine.
A bloc of countries called the Lima Group, including Peru, Argentina, Brazil, Canada, Colombia and seven other nations in the hemisphere, late on Friday joined the United States in criticizing the assembly for "usurping" congress's powers.
Anti-government marches have stalled since the assembly was inaugurated on Aug. 5. In its first working session, the assembly fired Venezuela's chief prosecutor Luisa Ortega, who had accused Maduro of human right abuses.
Ortega fled to neighboring Colombia last week. Colombian President Juan Manuel Santos said on Monday that she was under the protection of his government and would be granted asylum if she requested it.
Comments

SAN JUAN, Puerto Rico, (Reuters) – Hurricane Maria, the strongest storm to strike Puerto Rico in nearly 90 years, carved a path of destruction through the U.S.
UNITED NATIONS,  (Reuters) – The United States said yesterday it is weighing whether the Iranian nuclear deal serves its security interests even as Iran said it did not expect Washington to abandon the agreement.
MADRID/BARCELONA,  (Reuters) – Spanish police raided Catalan government offices and arrested officials yesterday to halt a banned referendum on independence, an action the regional president said meant Madrid had effectively taken over his administration.
SAN FRANCISCO,  (Reuters) – California filed a lawsuit yesterday over the Trump administration's plan to construct a wall along the border with Mexico, adding to the obstacles facing one of the Republican president's key campaign promises.
UNITED NATIONS,  (Reuters) – Myanmar's vice president told the United Nations on Wednesday that security forces in his country's Rakhine State, from which hundreds of thousands of people have recently fled, have been instructed to take "full measures" to avoid collateral damage and harming innocent civilians.