KINGSTON, Jamaica, CMC – A groin injury has put Pakistan seamer Hasan Ali in doubt for the opening Test of the three-match series against West Indies bowling off here tomorrow.
The 23-year-old, who is yet to make his Test debut, picked up the injury during last weekend's three-day four game against the WICB President's XI and is yet to recover.
The Pakistan Cricket Board said the  player would undergo rehabilitation in an attempt to return to full fitness quickly.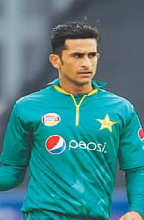 "On clinical assessment there is strain to one of his adductor muscles. He will undergo progressive rehabilitation to regain strength in the groin,' the PCB statement said.
"Currently, we are confident that he will recover in time to be able to play in the Test series against West Indies. We will continue review his situation as he progresses through rehabilitation stages and give an update later when we are satisfied with his successful recovery or progress."
Ali was expected to be a shoo-in for the first Test after impressive performances in the preceding limited overs series. He was especially outstanding in the opening one-dayer with a five-wicket haul.
The right-armer sent down 27 overs in the first innings of the tour game but did not bowl in the President's XI second innings.
He has taken 29 wickets in 16 one-dayers and 10 wickets in seven Twenty20 Internationals.
Comments
Dear Editor, The bombardment of the Triumph front lands community on the East Coast of Demerara, continues.
Dear Editor, Your editorial yesterday, on the non-implementation of CoI recommendations among other accepted policies, brings to mind two of my 'Rules for Living in the Rupununi': 4.
Dear Editor, I am a member of the Governing Board of the Guyana National Broadcasting Authority, having been nominated by the Leader of the Opposition.
Dear Editor, From the onset, permit us to state that it is not the policy of the Public Utilities Commission to respond to articles or letters published in the media, as some concerns and/or issues are directly within the purview of the utility in question.
Dear Editor, I am writing to ask for your intervention in a matter of great urgency in the town of New Amsterdam and it concerns the application of laws, rules, and regulations (or lack thereof) in the matter of noise abatement at the comer of Trinity and Main Streets.