Winner of the Guyana Cricket Board's prize for Sports Journalist of the Year Avenash Ramzan Thursday night left those in attendance at with a simple yet telling message.
The message, convert the stones thrown at you into milestones, or in other words, turn criticism into success.
Ramzan, delivered the apt remarks during his response on behalf of the awardees.
According to Ramzan it was indeed an honour… "for one to be recognised for his or her work in whatever field that might be."
Stating that he had absolutely no doubt that all of the awardees would have worked very hard over the past year in an effort to improve their discipline, Ramzan declared that …"receiving such accolade and recognition tonight is a fitting way to end the year.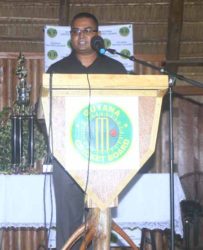 "This brings me to a very pertinent quote from a very famous man, one who is considered a supreme being in his homeland: the Indian batting legend Sachin Tendulkar.
"He once said, `Success is a process. During that journey sometimes there are stones thrown at you, and you convert them into milestones.'"
According to Ramzan, Thursday night's awardees must have all encountered situations when, for some reason or the other their ability came into question and they were criticised and inevitably, stones were thrown at them.
"There are so many examples here tonight. For instance, our three nominees for Male Cricketer-of-the-Year all endured those moments.
"Vishaul Singh was out of the Guyana team for quite a while but he returned with a bang in the Professional Cricket League in 2014 and this year earned a spot on the West Indies A team, making 96 and 161 in the unofficial Test series against Sri Lanka A. There is the belief now that he's not far away from a senior team call-up.
"Then there was a time when it seemed Leon Johnson would never again play international cricket, but he took those stones thrown at him manfully and he prved the critics wrong.
This year, he was back in West Indies colours after topping the runs chart in the PCL Four-Day, and he still continues to take those stones after being forced to bat out of position as an opener.
"The man from Guava Bush. Devendra Bishoo, was out of the reckoning for a few years, but that did not deter him one bit. In fact, it motivated him to do even better, and we all know what he did this year in Test cricket. Twenty two wickets in six games, including a best of 8-49 against Pakistan, the best figures in Test cricket this year.
"What our nominees did? They converted those stones into milestones."
Ramzan, in closing, told the gathering that in life there… .."will be challenges; there will be critics; there will be days when you feel like giving up; and there will be days when your best efforts are not good enough.
"However, don't let those distractions lead you off course. Keep your eyes on the prize; make those stones into milestones. Sachin did it; your awardees did it; you can do it too. "
Ramzan also singled out young Bhaskar Yadram and the Rose Hall Town Youth and Sports Club for special mention.
"I'm heartened by two of the awards this evening. Young Bhaskar Yadram, whom I believe has a very bright future in the game. This young man has shown immense discipline, dedication and commitment, and with the tremendous support he is receiving from his family and the community of Enterprise, he is bound to achieve greatness in the game once he remains focussed.
"Then there is the Rose Hall Town Youth and Sports Club, which continues to prove year-after-year, what can be achieved through sports and a vision to empower the less fortunate. Here is a club that continues to match its on-field success with a very active humanitarian programme off it. Kudos to Hilbert Foster and his team at Rose Hall.
"And finally, to all those involved in the game, whether as a player, umpire, match referee, scorer, administrator, curator, corporate sponsor or just a fan…think not of what the game can do for you, but what you can do to improve the game," ended Ramzan.
Around the Web