KINGSTON, Jamaica, CMC – Veteran right-hander Marlon Samuels has criticized the West Indies Cricket Board over their inflexibility regarding the controversial eligibility rule, and said it was time to compromise with players.
The 36-year-old was ruled out of selection for the three One-Day Internationals against England next month, after failing to meet the criteria for selection by playing in the entire Regional Super50 which wrapped up last weekend in Antigua.
Samuels, the squad's most experienced ODI batsman, said it was confusing that the WICB had funded his recently bowling tests overseas so his action could be ratified by the International Cricket Council, only for selectors to then rule him out of selection.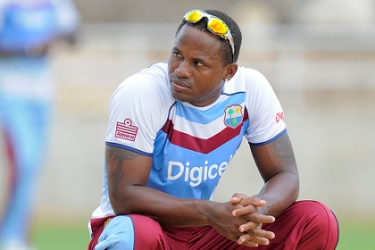 "I didn't pay for my bowling. ICC didn't pay for my bowling . The West Indies Cricket Board paid for my bowling," the Jamaican told regional sports network, SportsMax.
"So they invested in my bowling for me to come back to bowl against England. Now I'm going to hear that I have to stay and play all the Super50 games … so I said no problem."
He added: "At this stage I am not 20 and you are still continuing to tell me to miss out on everything, so why can't you compromise? Why can't I come and play some games in the PSL (Pakistan Super League) and come back and play against England."
The right-handed Samuels played two games for Leeward Islands Hurricanes in the Super50 before jetting off to the United Arab Emirates to take up his contract in the PSL.
Pointing to England captain Eoin Morgan who played a few games in the PSL before heading to the Caribbean for the upcoming ODI series, Samuels said the WICB's eligibility was senseless as other international players faced no such restrictions.
"It was not a sudden piece of information because they had told me that if I am not playing all the 50-over games, basically I wouldn't be up for selection so I asked for my NOC and I'm here playing in the PSL," Samuels said.
"What I am saying, first and foremost, is that the rule that they have, I don't think it's making any sense. You have to compromise.
"Eoin Morgan is playing in the PSL, he played a couple of games and he's playing the three games for England so why can't the West Indies Cricket Board comprise? Why play hardball in everything?"
Last November, Samuels pulled out of the West Indies squad for the Tri-Nations Series in Zimbabwe to fulfill a contract in the Bangladesh Premier League. This came after he had rejected a central retainer contract because he was offered a downgraded contract, from Grade B to Grade C.
He said he was told that once he accepted the new retainer, he would not be allowed to play in the BPL. However, with the T20 contract more lucrative than his downgraded contract, Samuels said he was left with no option but to turn down the retainer and play in the T20 tournament.
Samuels said he was disappointed by the board's actions as he expected some level of loyalty after having shown long term commitment to West Indies cricket.
"Loyalty in terms of I am the only one from [the year] 2000 still here sticking around playing for West Indies," Samuels stressed.
"I have no problem doing that because I was playing Tests, T20 and ODI and [was] on a retainer so I have played all three [formats] … so I said 'you know what, I'm going to have a long international career and continue to represent West Indies because this is where I started and West Indies made everybody else know me in the world'."
Samuels has amassed 5180 runs from 187 runs at an average of 34.
Around the Web