For many retired or inactive boxers, the lure of the ring remains too much to resist and they end up returning to pursue past glories.
Some leave it a matter of weeks while others last a little longer before the urge kicks in.
After a year and seven months, the urge has kicked in for former CABOFE middleweight champion, Edmond 'Wonder Boy' DeClou.
DeClou has consistently given his all in every contest since turning pro in 2009 and after a period of reflection, the proud warrior feels he has more to offer to fight fans.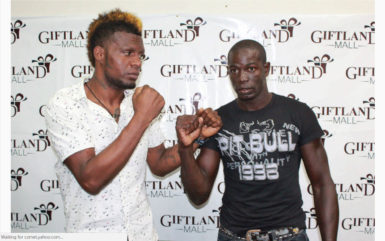 He will have his chance against Winston Pompey in a super middleweight six-rounder on the 'Locked and Loaded' card billed for April 9 at the Giftland Mall.
"I am looking forward to the buzz of being back in the ring" DeClou admitted. "I can't wait to excite the fans again."
DeClou's trainer Lennox 'Capel' Daniels said yesterday "He was out for a while but he is whipping back into shape. "He is looking good and I expect him to perform better than his old self."
If DeClou can rekindle his boxing prowess we have grown accustomed to, it will be a long night for Pompey come April 9.
Meanwhile, the knockout night of boxing will be headlined by the flashy Dexter 'De Kid' Marques.
The showman flyweight who has not fought since last February will look to shake off some ring rust since his promotional team has already lined up a Commonwealth title fight with their sights set on a world title crack later in the year.
Marques (15-2-0) will match gloves with Venezuelan, Luis Alberto Requena in a 10-round affair.
Elsewhere on the bill, Imran 'Magic' Khan will take on Keeve Allicock in a four-round lightweight bout. There will also be three amateur bouts. Admission for ringside is $2000 and $1000 for regular seating. Bell time is 19:00hrs. Stabroek Sport will keep readers updated as events for 'Locked and Loaded' unfold. (Emmerson Campbell)
Around the Web