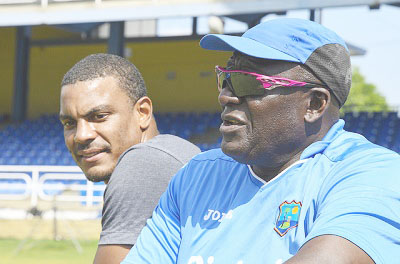 PORT OF SPAIN, Trinidad, CMC — West Indies will not be dwelling too much on their humbling, six-wicket defeat to Pakistan in last Sunday's opening game of the four-match Twenty20 International series.
Bowling coach Roddy Estwick told reporters here yesterday the side had analysed the defeat, seen where they had gone wrong and had moved on, with the focus now on today's second game at Queen's Park Oval here.
"Everybody is in good spirits. It's only one game, we've lost that game. We've got to put that behind [us] as quickly as possible," Estwick told media here.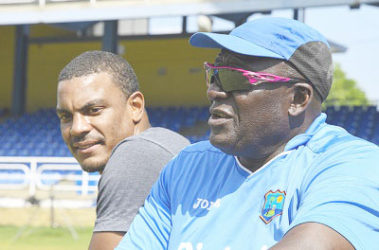 "In professional cricket you're going to lose games; you don't want to lose too many games but you can't harp on forever on the past. You've just got to focus on what is to come now and that's the game coming up on Thursday. "We can control that and we can control how well we play. Barbados is finished and that's gone. You learn from it but you move on as well."
West Indies were silenced by debutant leg-spinner Shadab Khan in the opening game at Kensington Oval, restricted to an embarrassing 111 for eight off their 20 overs with the 18-year-old claiming four wickets for seven runs from four brilliant overs.
Pakistan easily overhauled the target to win by four wickets with 17 balls remaining, and take a 1-0 lead in the series.
The defeat was the fourth straight one for West Indies in T20s following their 3-0 whitewash to Pakistan in a series in the United Arab Emirates last September. However, Estwick said West Indies had done their homework on Shadab and were confident about turning the tables. "We know the areas we fell down in, we didn't play well from [overs] six to 14. Obviously the first five overs we looked decent batting and the last six were OK so those middle overs are very important to us," the Barbadian explained.
"We've had a discussion about those and also coming up with a plan against the young leg-spinner who obviously caused us some problems."
He added: We've had a look at all the footage [of Shadab], we've had discussion and we've come up with plans so hopefully the players can go out and execute them." Estwick said it was also vital West Indies focussed on their own game and expressed themselves in the way they knew best. "You really don't want to muzzle the players too much and put too much fear in there,"he warned. "You really want them to go out and express themselves so it is very important they keep a clear mind. So even though we have our plans, you still want players to express themselves."
Around the Web