The Guyana Football Federation (GFF) Stag Beer Elite League resumes today at the Tucville Community Ground with an exciting doubleheader.
In the opening fixture at 16:00hrs, fourth placed Buxton United will match skills with Berbice unit and fifth placed side Monedderlust FC.
Meanwhile, the feature contest at 18:30hrs will pit home side and second placed Fruta Conquerors against third placed outfit Devcon Victoria Kings.
The Tucville unit in their most recent fixture defeated cellar occupant and Linden giant Topp XX 3-0. On the other hand, Kings went down 4-0 to league leaders Guyana Defence Force in their prior contest.
Winner of the tournament will pocket $6,000,000 while the second, third and fourth placed units will receive $3,000,000, $2,000,000 and $1,000,000. Admission to the venue is $500.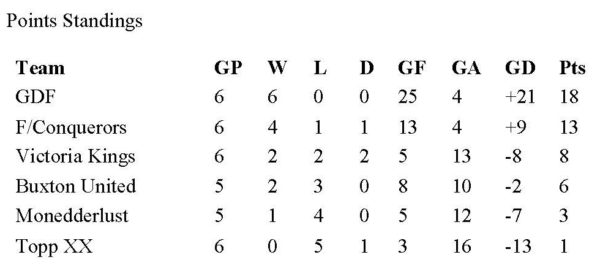 Around the Web