ST JOHN'S, Antigua, CMC — West Indies Under-19s head coach, Graeme West, expects the tour of South Africa in July to play a crucial part in the side's preparation for the defence of their ICC Youth World Cup crown.
The Caribbean unit will play eight matches on the tour before also heading to Zimbabwe for additional games later in the year, as they seek to fine-tune their match readiness for the January 12 to February 4 showpiece next year in New Zealand.
"With their upcoming tours to South Africa in July and Zimbabwe later this year, the tours are designed to fine-tune the team's preparation," said West.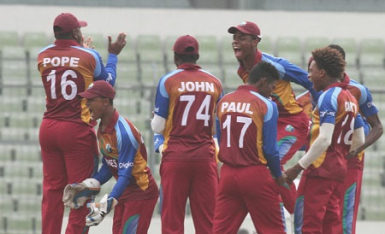 "The trip will assist in developing the combinations and game plans that will need to be well established in order for the team to be competitive at the World Cup in 2018. The talent of adapting seamlessly to different pitch conditions is one that will surely be enhanced through these tours also."
With the tournament less than nine months away, the 21-man squad has been intensely involved in preparation aimed at ensuring a strong title defence.
They participated in the Regional Super50 earlier this year, gaining valuable experience playing against the likes of Trinidad and Tobago and English County Kent.
The unit are currently involved in a April 1-9 camp here, one which West believes will also be pivotal in getting the most out of each individual.
"The camp for the 21-member squad is highly specialized, and focuses intensely on the skills necessary to be successful in the 50-overs format," he explained.
"The coaching staff has tailored a comprehensive training package, which not only focuses on nurturing the young players' talent, but developing some useful methods relevant to real match scenarios also."
West Indies stunned the world when they beat heavy favourites India in the final of the tournament staged in Bangladesh last February.
As expected, the side have lost the bulk of their players from the championship-winning team with the likes of captain Shimron Hetmyer, Alzarri Joseph and Shamar Springer all ineligible.
However, West Indies said the new crop of players were anxious to carve out their own slice of history.
"It will be a huge challenge to defend the title won in Bangladesh last February and no team has won back to back U19 World Cups since its conception, but this group of players are determined to follow in the footsteps of Hetmyer, Joseph and company, to create their own piece of history."
Around the Web