(Sports Xchange) – C.J. Miles missed a wide-open jumper at the buzzer and the Cavaliers held on to beat the Indiana Pacers 109-108 in Game 1 of an Eastern Conference first-round series.
LeBron James led all scorers with 32 points to go with 13 assists and six rebounds. His teams have an 18-game winning streak in the first round and are 41-7 lifetime.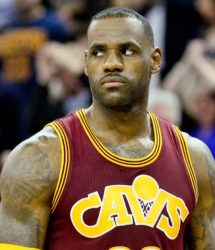 Spurs 111, Grizzlies 82
Kawhi Leonard matched his career playoff high with 32 points despite sitting out the fourth quarter as San Antonio used a big third quarter to forge a victory over Memphis in Game 1 of the first-round Western Conference playoff series.
Game 2 of the best-of-seven series is Monday in San Antonio.
Bucks 97, Raptors 83
Giannis Antetokounmpo scored 28 points and grabbed eight rebounds to lead Milwaukee to a victory over Toronto in the opener of their best-of-seven first-round playoff series.
Toronto dropped to 0-9 in the opening game of a first-round playoff series and 1-10 overall in Game 1.
Malcolm Brogdon added 16 points for the Bucks, Greg Monroe had 14 points and nabbed 15 rebounds, Tony Snell had 11 and Khris Middleton chipped in with 10 points and nine assists.
Jazz 97, Clippers 95
Joe Johnson hit a runner in the lane as time expired, lifting the Utah Jazz to a 97-95 victory over Los Angeles in Game 1 of the Western Conference playoffs at Staples Center.
Johnson scored a team-high 21 points as the Jazz prevailed despite losing center Rudy Gobert in the opening minute. Gordon Hayward contributed 19 points and 10 rebounds, George Hill added 16 points and Derrick Favors chipped in 15 points for Utah.
Around the Web