Hamza Eastman kicked off the month of July in fine style yesterday winning the feature 35-lap event of the Malta Supreme multi-race programme at the National Park.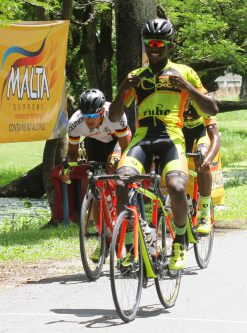 The Team Coco's rider outsprinted national wheelsman, Paul DeNobrega (Team Evolution) and teammate, Jamal John in a thrilling three-man finish to take the spoils of the event.
Besides the winner's trophy, Eastman also snared four sprint prizes before completing the fixture in one hour and 21 minutes.
Raul Leal placed fourth, while Brighton John and Silvio Innis completed the top six rewarding positions.
Other winners yesterday included: Jonathan Ramsuchit (BMX Boys and Girls 12-14 years), John Niles (BMX Boys 6-9 years), Ryan Crawford (Mountain Bike), Nigel Duguid (Juveniles) and Sean Greene (Veteran U-50 years). At the completion of the event, its organizer, Hassan Mohamed congratulated the cyclists for making the day a success and also thanked the sponsor Banks DIH Limited for being onboard.
Around the Web