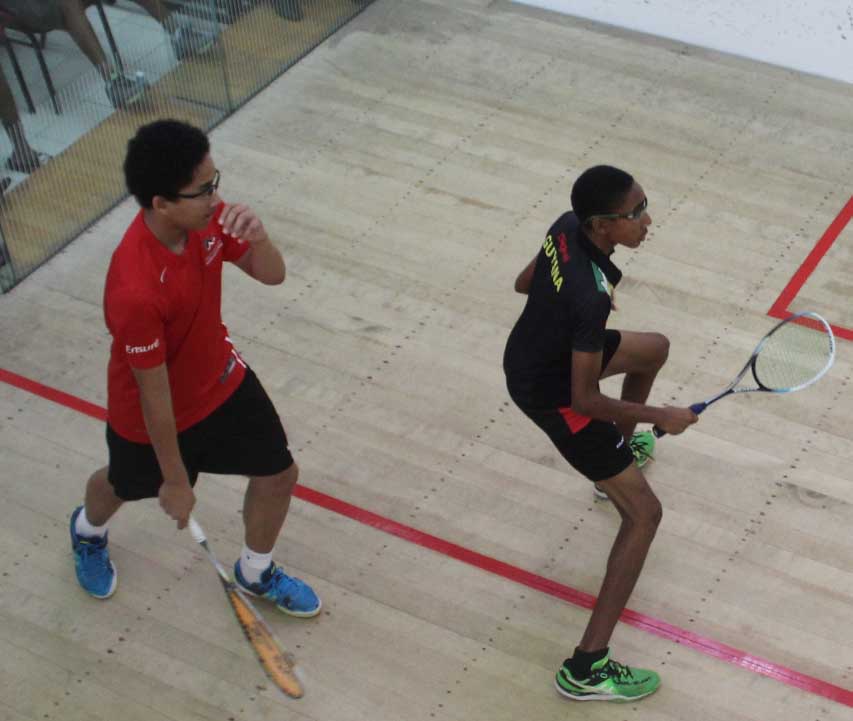 Guyanese Taylor Fernandes and Shomari Wilshire earned themselves individual titles at the conclusion of the singles leg of the 2017 Digicel junior Caribbean Squash Championships at the Georgetown Club, yesterday.
The championships sponsored by Exxon Mobil, Banks DIH, Ansa McAl, Bounty Farm Ltd., Guyana Olympic Association and DD Signs, saw Barbados establishing themselves as firm favourites to dethrone Guyana as overall team champions by capturing six of the 10 individual titles up for grabs. Guyana won two, and Trinidad & Tobago and the Cayman Islands captured one each.
The wins by the Guyanese were celebrated in contrasting fashion with Fernandes clinching her fists and screaming in obvious delight after winning her first junior title while Wilshire, who is a two-time Caribbean champion, casually embraced his opponent as the match ended.
The locals endured a tough day after surrendering five championship matches, beginning with Mohryan Baksh's loss to Seth Thong (Trinidad) in straight games in the boy's Under-11 final.
Kirsten Gomes then surrendered the girl's Under -13 final to Sumairaa Suleman (Barbados) in similar fashion 3-11, 4-11 and 2-11.
It was now up to Shomari Wilshire to break what appeared to a finals jinx and that he did.
Wilshire, who is one of those athletes that plays above and beyond his age group category, won his third championship at the junior level and Guyana's first on the day after he defeated Christopher Anthony (Trinidad) by three games to one.
He landed the first game comfortably 11-1 but Anthony hit back strongly to win the second game 11-9 and add an interesting twist to the final.
It was a wakeup call for the Caribbean champion who quickly went back to his dismissive ways to take the third and fourth sets in commanding fashion – 11-1 and 11 – 2.
Taylor Fernandes then landed Guyana's second singles championship after she defeated Amanda Haywood (Barbados) three sets to one in an enthralling girl's Under-19 final. Fernandes took the first game 11 – 8 after it was tied at 4, 5 and 7.
She, however, surrendered the second game 8-11 in easily the most exciting and equal matchup on the day.
Fernandes was back in business after she won the third game  12- 10 in  another seesaw battle for the fans during which it was tied at 1, 2, 4 and 10.
It was all to play for in the fifth game after Haywood won the fourth 11-5 which threatened to dampen Guyana's junior squash queen's farewell match at this level.
Fernandes, however, used every trick in the book, digging deep to win an emotional fifth game 11-8 which landed her the girls Under -19 title in front of a vocal home crowd, who cheered her on every second of the match.
Fernandes after the match said that she was still in shock while at the same time expressing joy in light of her accomplishment.
"Right now, like I still can't believe that I actually did it, it's unreal but I feel really good," the new Caribbean champion said.
It was now up to Captain Benjamin Mekdeci to crown off the under-19 double but  he came up short after losing to Guyana-born Barbadian  Josiah Griffith three sets to one after winning the first set 11 -4 while surrendering the others at 8,6 and 4.
The energetic Abosaide Cadogan was the other Guyanese to cop the runners up prize after she lost to seasoned campaigner, Chelsea Samuel in straight game in the girl's Under – 15 championship match.
Beau Fernandes also copped a runners up finish in the girl's Under-11 showdown after she won two of her three round robin games.
Meanwhile, Paige and Madison Fernandes won their third place playoffs matches after defeating Hailey Moss and Giovanna Miller – Alexander both of the OECS in the girl's under -13 and 15 divisions.
The opening ceremony for the championships was held  yesterday at the Georgetown Club while play in the boys and girls' team event starts today at the Georgetown Club courts with matches at 9.00 am and 5.00 pm. The boys team event has a pool of six teams while the girls team event has a pool of four.
Around the Web