Track and Field standouts, Onasha Rogers and Claudrice McKoy are guaranteed a sum of $230,000 each annually for the next four years after signing an MoU with the National Sports Commission (NSC) yesterday.
The grants which would have initially covered the cost of attending the University of Guyana (UG) will now be used for offsetting expenses while attending Monroe College in the United States of America.
Following a successful outing at the CARIFTA Games this year, members of the team which included the duo were awarded full scholarships to attend UG, however, Rogers, a sprinter, and middle distance specialist, McKoy, were subsequently offered and accepted scholarships to Monroe College.
As a gesture of goodwill, the NSC sought it fit to honor their initial promise which includes miscellaneous expenses for the two athletes.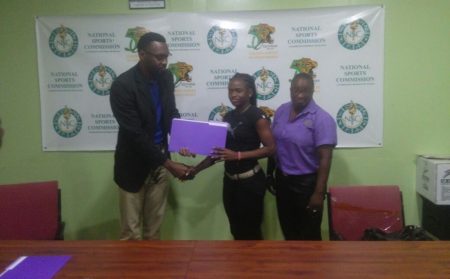 Said Director of Sport, Christopher Jones:"We have today the MoU of which will be signed between the NSC and the parents of Onasha and Claudrice of which today we will disburse the first amount of $230,000 and of course as they continue their pursue at Monroe College, the balance will be paid to them."
Jones added:"As stipulated in the agreement, however, if for some reason they fail to complete their studies at Monroe College, the payments will cease and if they wish to continue their studies at UG, the payments will continue so it's almost guaranteed payment of the full amount honoring the initial agreement."
Following the disclosure, the athletes thanked Jones and the NSC for keeping their promise.
McKoy who struck gold (3000m) and silver (1500m) at the CARIFTA Games and Rogers are scheduled to depart on August 18.
Around the Web