LONDON, (Reuters) – American Tori Bowie snatched the women's 100 metres from Marie-Josee Ta Lou on the line to win gold at the World Athletics Championships yesterday and end Elaine Thompson's recent domination of the event.
Ta Lou started well and looked set to win Ivory Coast's first world title in any event as she pulled away from the field but the big-striding Bowie came out of nowhere to close her down.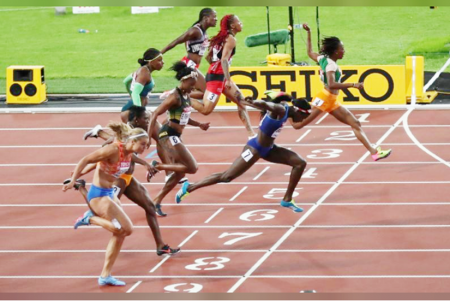 The American timed her dip perfectly as Ta Lou fatally failed to throw herself at the line, giving Bowie victory by one hundredth of a second and the United States a 100 metres double after Justin Gatlin's win on Saturday. The 26-year-old Bowie, who finished in 10.85 seconds before crashing to the track, went one better than her silver medal at the Olympic Games in Rio de Janeiro last year.
"I never give up until I'm over the line," Bowie said. "Ta Lou went away fast but she always is. It didn't bother me and I just kept pumping my legs and arms until the finish." Jamaican Thompson, the 100 and 200m Olympic champion in Rio last year, finished out of the medals in fifth as Dutchwoman Dafne Schippers took bronze.
Thompson's shock defeat came after Usain Bolt finished third in the men's 100 metres on Saturday and it was the first time since the 2005 World Championships in Helsinki that Jamaica failed to win either 100 metres race.
It was also the first sprint double for the U.S. since Helsinki when Gatlin and Lauryn Williams were the champions.
Thompson, who had looked in fine form in the heats and won on the same track in trainers one month ago, was at a loss to explain her defeat.
"I have to give those three girls a lot of credit, so a big congratulations to them," she said. "I didn't execute my race which is a shame but I'm health.
"I don't know what happened. I just wanted to get a good start but they race well. I'll have to watch the video back because I don't know what went wrong."
Around the Web