Despite the presence of Caribbean heavyweights Cuba in group-D of the CONCACAF U17 Girls Championships, Thomas Jordan, head coach of the Barbados U17 Girls Team, said his charges are equipped to compete.
The Barbadians will commence their continental competition today against hosts Guyana at the National Track and Field Centre, Leonora from 17:00hrs
Speaking at the Princess Ramada Hotel, Providence, Jordan declared, "The expectation is that we will compete, we are playing here to win and we are not intimidated by Cuba.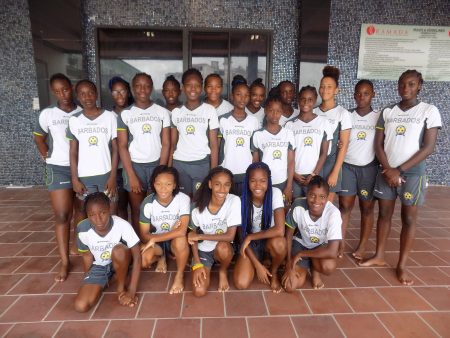 He noted, "Yes they [Cuba] are a powerhouse, they are a good team and we have seen them play before, but we have prepared ourselves to compete against them."
Jordan further said, "It is pleasure to be here in Guyana for this tournament. We are preparing for the U17 and very much careful with the young ladies because we are developing them to mature and we are hoping that this tournament is good for their experience and we are glad to be a part of the tournament." Asked about the length of preparation time that was afforded to the team, Jordan revealed: "What we have done, is this team was the U15 from last year which took part in the tournament in Florida. What we did was keep that team together from basically last year January to now so they transformed from the U15s to the U17s. We do have a female programme for the kids, but we trying to start an U13 which prepares them for tournaments like these in the future."    Meanwhile, assistant coach, Gabrielle Lopez added, "We are glad to be here in Guyana to compete in the U17 tournament. The girls have been training hard and well prepared, we hope that all the teams have a good experience here." Barbados will conclude their group campaign on Friday at the same venue.
Around the Web