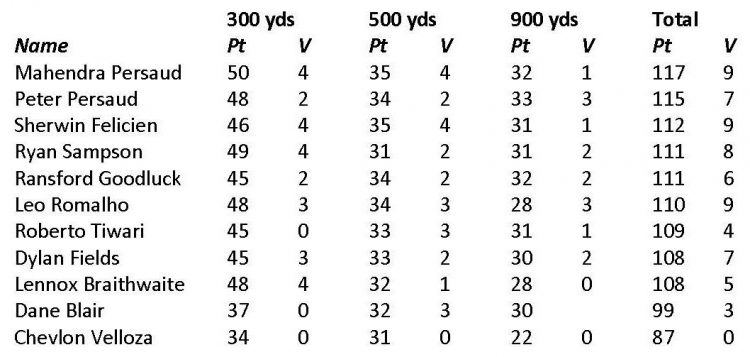 Fresh from competing in the recent Canadian National Full-bore Rifle Shooting Championships, Mahendra Persaud, was in fine form Sunday winning the Guyana National Rifle Association (GNRA) Recorded Shoot at the Timehri Rifle and Pistol Ranges.
Persaud won with a score of 117.9 with Peter Persaud, 115.7, second, Sherwin Felicien, 112.9, third and Ryan Sampson 111.8, fourth.
However, another of the country's top shooter Lennox Braithwaite who also participated at the Canadian National Rifle Shooting Championships did not fare as well, placing eighth.
The competition was held over the 300, 500 and 900-yard ranges and Persaud, who is the national Full-bore captain shot 50.4 at 300 yards and 35.4 at 500 yards, both possibles.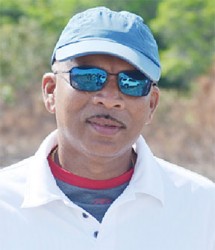 Sampson was second at 300 yards with a score of 49.4 while Felicien shot a possible at 500 yards with 35.4.
According to a release from the GuyanaNRA, the 900 yards "proved to be the most exciting range with heavy winds, causing much distress for the shooters.  "When the last shot was fired in fading light, many shooters were left in disbelief."
The day's shooting saw an overall improvement in scores by the shooters and this was pointed out by Persaud when he announced the final results.
According to Persaud this augurs well for the defence of the team matches at the championships in October when the Guyana NRA, which will celebrate its 150th anniversary will host the West Indies Full-bore Shooting Championships.
The shooters also observed one minute's silence in remembrance of their late colleague, Richard `Dickie' Fields, who was laid to rest last Wednesday.
Last Thursday,   Guyana NRA's President, Brigadier Patrick West, and the Executive Council also paid respect to its late Vice President during its council meeting.  Fields at the time of his death was the longest serving council member.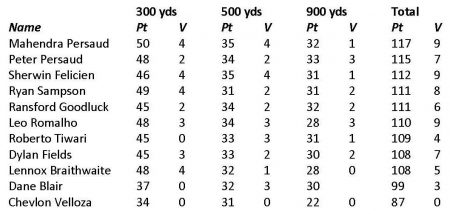 Comments

The inaugural Magnum 'Tek Charge and Win', Futsal Christmas Classic was officially launched yesterday at the Windjammer International Hotel and Cuisine, Queen Street, Kitty.

TAROUBA, Trinidad, CMC – Guyana Jaguars captain Leon Johnson hit a sparkling, fifth first-class hundred to put the current leaders and reigning three-time champions into the early ascendancy against Trinidad & Tobago Red Force in the Regional 4-Day Championship on Thursday.

If you are a fan of chiseled physiques, then the place to be this evening is the Theatre Guild in Parade Street, Kingston.

Turfites get ready, the 'Sport of Kings' returns to the Alness Turf Club tomorrow for a grand one-day meeting.
The Playoff Round of the Guyana Amateur Basketball Federation (GABF) 2017 'Road to Mecca' tournament bounces off today at the Cliff Anderson Sports Hall, Homestretch Avenue.