Back Circle, Dave and Celina's All-Stars, North Ruimveldt and Silver Bullets stormed their way into the group round when the inaugural Street Vibes Entertainment, Futsal Championship continued on Saturday.
Played at the National Gymnasium on Mandela Avenue, Back Circle made light work of Alexander Village winning 5-1 as Jermaine Beckles tallied a double in the third and 11th minute.
Stephon McLean also netted two goals in the 12th and 16th minute while
Sylvester Richardson netted the fifth goal in the 15th minute.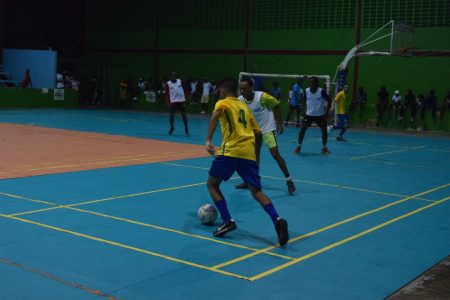 Sheldon Fletcher netted Alexander Village's goal in the seventh minute. In other results, Dave and Celina's All-Stars crushed West Back Road 6-2 with Donovan Francis scoring a helmet-trick in the seventh, 12th, 15th and 19th minute.
Adding to the score in the ninth and 14th minute were Rawle Gittens and Kennard Simon respectively.
West Back Road's goal scorers were Josephius Charles and Ned Fraser who netted in the 13th and 17th minute each.
Meanwhile, North Ruimveldt hammered the Brazilian Team 7-1 with Gerald Gritten bagging a brace in the 13th and 14th minute while Joshua Browne also scored twice in the seventh and 18th minute. Assisting with goals in the third, fourth and ninth minute were Travis Grant, Kacy John and Ryan Hackett respectively. For the Brazilians, Wellinson scored in the sixth minute.
Silver Bullets of Linden downed North East Lake Penitence 6-4. Damion Williams recorded a double in the seventh and 15th minute while Jermaine Samuels tallied a brace in the first and 16th minute.
Adding to the score line were Romel Matthews and Omar Williams in the fourth and fifth minute apiece. For the losers, Delon Hunte, Rawle Adams, Alvin Moore and Kelvin Moore scored in the third, sixth, 12th and 14th minute each.
Tucville defeated Agricola Champion Boys 3-2 on sudden death penalty kicks, after normal time ended 2-2, while Albouystown-A edged Bent Street 1-0.
Also, Future Stars and Swag Entertainment defeated Campbellville and Beterverwagting (BV) via walkovers. The event resumes at the same venue on Thursday with the group stage.
Winner of the tournament will pocket $700,000 and the championship trophy, while the second, third and fourth place finishers will receive $250,000, $150,000 and $100,000 respectively and the corresponding accolade. The sponsors of the event are Banks DIH Limited, the Guyana Police Force, Windjammer International Hotel and Cuisine and 94.1 Boom FM.
Complete Results
Day-2
Game-1
Future Stars vs Campbellville
Future won via walkover
Game-2
BV vs Swag Entertainment
Swag Entertainment won via walkover
Game-3
North Ruimveldt-7 vs Brazilian Team-1
North Scorers
Joshua Browne-7th and 18th
Gerald Gritten-13th and 14th
Travis Grant-3rd
Kacy John-4th
Ryan Hackett-9th
Brazilian Scorer
Wellinson-6th
Game-4
North East La Penitence-4 vs Silver Bullets-6
Silver Scorers
Damion Williams-7th and 15th
Jermaine Samuels-1st and 16th
Romel Matthews-4th
Omar Williams-5th
North East Scorers
Delon Hunte-3rd
Rawle Adams-6th
Alwin Moore-12th
Kelvin Moore-14th
Game-5
Tucville-2 vs Agricola Champion Boys-2
Tucville won 3-2 sudden death kicks
Tucville Scorers
Dennis Edwards-8th
Leon Sealey-13th
Agricola Scorer
Collis Samuels-1st and 11th
Game-6
Dave and Celina's All-Stars-6 vs West Back Road-2
Dave and Celina's Scorers
Donovan Francis-7th, 12th, 15th and 19th
Rawle Gittens-9th
Kennard Simon-14th
West Back Road Scorers
Josephius Charles-13th
Ned Fraser-17th
Game-7
Bent Street-0 vs Albouystown-A-1
Moses Gritten-4th
Game-8
Back Circle-5 vs Alexander Village-1
Back Circle Scorers
Jermaine Beckles-3rd and 11th
Stephon McLean-12th and 16th
Sylvester Richardson-15th
Alexander Scorer
Sheldon Fletcher-7th
Fixtures-Thursday October 5th
Broad Street vs Swag Entertainment-19:00hrs
MBK All-Stars vs Leopold Street-19:30hrs
North Ruimveldt vs Silver Bullets-20:00hrs
Dave and Celina's vs New Market Street-20:30hrs
Gold is Money vs Albouystown-A-21:00hrs
Hustlers vs Future Stars-21:30hrs
Back Circle vs Tucville-22:00hrs
Sparta vs African Team-22:30hrs
Around the Web