Despite losing to Jamaica in their final group fixture, Guyana's  men's hockey team has qualified for the 2018 Central American and Caribbean Games.
Unlike the male team which lost the dress rehearsal for today's grande finale the women's team too qualified for the CACgames  after ending their final group fixture with a 3-0 win over Guatemala (GUA) at the Mona Facility, Kingston.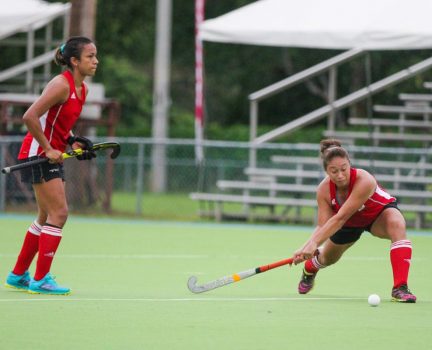 Tamala Glenn, Marzana Fiedtkou and Aliyah Gordon scored in the 14th, 28th and 55th minute respectively. Guyana will now oppose Jamaica (JAM) in the finale today from 14:30hrs.
Meanwhile, Jamaica defeated Guyana 3-2 in the battle of the undefeated men's teams. With both teams assured a place in the final, George McGlashen, Kemar Gobern and Duvaughn Henlon scored in the fourth, 41st and 51st minute respectively for the home side. For the Guyanese, Jamarj Assanah and Aroydy Branford scored in the 48th and 49th minute each. The two teams will faceoff once more today in the final at 17:00hrs. The other competing teams in the event were Puerto Rico (PUR), Bermuda (BER) and Panama (PAN).
Women Final Standings
Team        GP      W        D        L     GD      P
JAM           5         4         1       0      12      13
GUY          5         3         2        0      12       11
PUR           5         2         2        1      13       8
BER           5         2         1        2        4       7
GUA          5         1         0        4      -16      3
PAN          5         0          0        5     -25       0
Men Final Standings
Team      GP        W         D        L      GD     P
JAM          4           4          0      0       17     12
GUY          4           3          0      1       15      9
PUR          4           2          0      2        -1      6
GUA         4           1          0      3        -7      3
PAN          4           0          0      4       -24     0
Around the Web