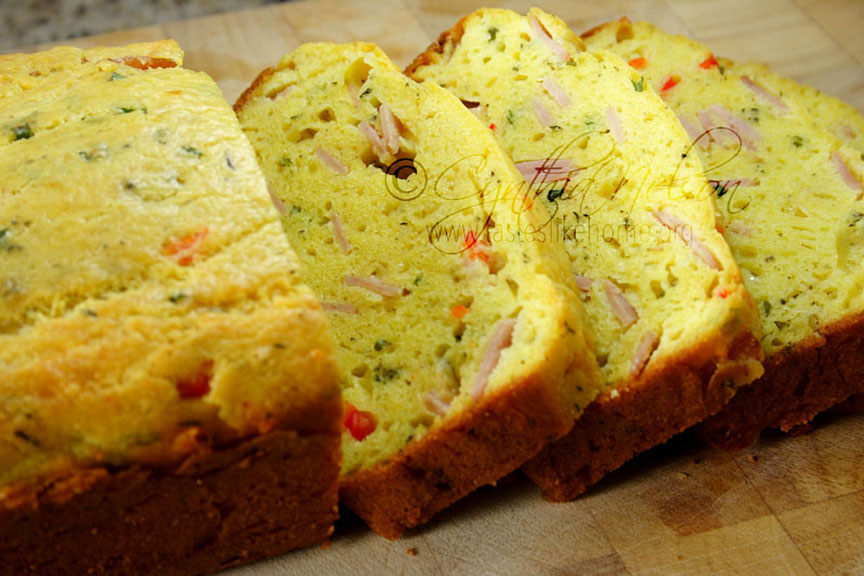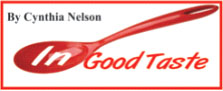 While the title of this recipe describes it as breakfast bread, it really works great for brunch and afternoon tea too. And on a holiday weekend such as this, it is the perfect thing to make. It is called breakfast bread because it contains all the usual breakfast ingredients, such as cheese, eggs, and ham.
Yield: 2 loaves
SPECIAL EQUIPMENT
2 (8 x 4) or (9 x 5) loaf pans, oiled or buttered
INGREDIENTS
2 ¼ teaspoons baking powder
½ teaspoon ground black pepper
¼ teaspoon fine table salt
2 tablespoons fresh chopped thyme
2 tablespoons thinly sliced chives/scallions
1/3 cup chopped red bell/sweet peppers
9 eggs, room temperature
1 cup (8 oz) unsalted butter, softened (see notes below)
3 tablespoons mustard (see notes below)
1 ½ cups chopped ham
2 cups grated cheddar cheese
DIRECTIONS
Preheat oven to 375 degrees F.
Mix together the flour, baking powder, black pepper and salt.
Add thyme, chives/scallions and sweet peppers to the flour mixture and toss to mix.
In separate, large bowl, combine eggs, butter, and mustard, and whisk until well blended.
Add half the flour mixture to the egg mixture and mix until just blended. Add the chopped ham and cheese and mix in
Add the other half of the flour mixture and stir until just mixed. Do not over mix.
Pour batter into the pans and bake for 30 – 35 minutes or until golden.
Remove pans from oven and allow the bread to cool for 10 minutes in the pan then remove and place on wire racks to cool. Serve warm or at room temperature.
NOTES
Softened butter means that the butter should be so soft that it cannot hold its shape; it should be extremely spreadable.
For the mustard, use Dijon, regular yellow mustard or spicy mustard if you have.
Around the Web