Asked to name her favourite exotic dish, Chef Nisa Walker says that is a tough question, but almost in the same breath she states that it is fish in a lemongrass and coconut sauce.
"It is easy to prepare with readily available ingredients. For example, I grow my own lemongrass," Walker, a well-known chef in the 'land of many waters' shared.
She pointed out that many Guyanese have what is commonly known as fever grass in their gardens and "this works just as well" when preparing this particular dish.
"But I was fortunate to be given the genuine fragrant plant by an Asian diplomat who lived here years ago.
"She also gave me a galangal plant. Galangal is very similar to ginger root, with a slightly subtler flavour; it's not as pungent as ginger and both roots can be interchanged in many of the same recipes."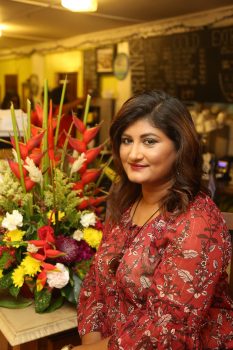 Even though "exotic" Chef Walker described her fish in lemongrass and coconut sauce as "affordable and flexible" since persons are allowed to use their favourite fish when cooking it. Her favourite to use are trout or red snapper fillet.
Prawns and mussels can also be substituted.
"When I cook it for Paradiso, our Friday night pop-up restaurant, I like to serve it with a simple jasmin or basmati rice pilaf and a side of calaloo and red bell peppers, sautéed in olive oil and garlic," she shared.
"It looks beautiful, tastes great and is very comforting to the soul," she continued, allowing you to visualise the dish while simultaneously yearning for a bite.
"Another reason why I love to prepare and to eat this dish is the simplicity but also the complexity of the flavours."
'Cooking is fun'
Chef Walker has been cooking for as far back as she can remember and her mother is her greatest influence from whom she learnt a lot because she always prepared delicious meals.
"As a child I enjoyed watching her cook and as I grew older I had to help her out and cooking became fun for me."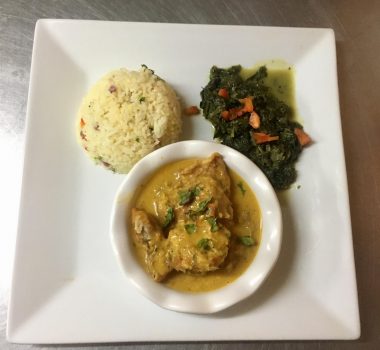 Her mother was creative in changing recipes and using whatever ingredients were available.
That, she said, taught her to research new recipes and experiment on her own, even substituting ingredients like her mother did.
"It was no surprise then that I attended culinary school in the US, where I lived for a few years. And as my talents and love for cooking increased, I started a catering service together with my full time job," she said.
Upon her return to Guyana, Walker said, she felt that there was a need for her to share her skills and this motivated her to start a countryside empowerment group called 'Winners,' which included teaching housewives to be more creative in the kitchen.
Then 12 years ago, she started that now very popular Oasis Café.
"…It [the café] has really challenged me to be a better chef. Cooking three courses for up to 40 people as we do on Friday nights is not easy! And the learning never stops," she said.
"Whenever I get to go away I'm always on the lookout for interesting techniques or recipes and afterwards I would try, through trial and error to replicate them," she shared, which may be the reason so many hustle down to the café for a bite.
It is the reason, she said, they often have on the Paradiso menu an Indian, Thai or Chinese dish.
"In the end the thrill of seeing people enjoy my food is what fuels my passion for cooking," she stated.
Oasis Cafe is located on Carmichael Street. According to its proprietress the café was the first to start offering genuine espresso-based drinks and to kick off what has become a growing cafe culture in Guyana.
"We use beans from all over the world including Ethiopia, Sumatra and Brazil," she said.
The café also offers a full breakfast menu seven days a week as well as lunches either from the buffet or from its short order menu. On Friday nights the café is transformed into a fine dining spot, Oasis Paradiso, named after a favourite family film Cinema Paradiso.
"Opening the cafe has been a life-transforming experience, bringing me many new friends and giving a sense of pride that we have created what has become a central meeting place in Guyana as much as it being known for good food and drinks," the popular chef concluded.
Fish in lemongrass and coconut sauce
Ingredients:
1 lb fish fillet, cut into desired size and seasoned with salt, pepper and pinch of turmeric
Veg oil
1 onion, roughly chopped
4 cloves garlic
2 med tomatoes, chopped
2 Tbsp chopped cilantro
1" piece ginger or galangal
6 stalks lemongrass
1 lime
3 lime leaves
1 coconut, grated and milk extracted or 1 can coconut milk
1 cup water
2 wiri wiri pepper (remove seeds if less spicy is desired)
1 teaspoon cumin
1 teaspoon turmeric
Chopped scallions to garnish with
Method
Pan fry fish and set aside
Blend together: onion, garlic, ginger or galangal, tomato and cilantro
Heat 1 Tbsp oil and sauté blended seasonings until oil separates
Add salt, turmeric and cumin
Add coconut milk and water, lime leaves and lemongrass (tie lemongrass together in a ball)
Bring to boil, lower heat and simmer for 10-15 mins
Remove lemongrass and lime leaves
Add fish to sauce and cook for another 5 mins
Taste and adjust seasonings
Squeeze lime juice over finished dish
Garnish with chopped scallions
Serve with rice and steamed Pakchoy or a vegetable of your choice
Around the Web