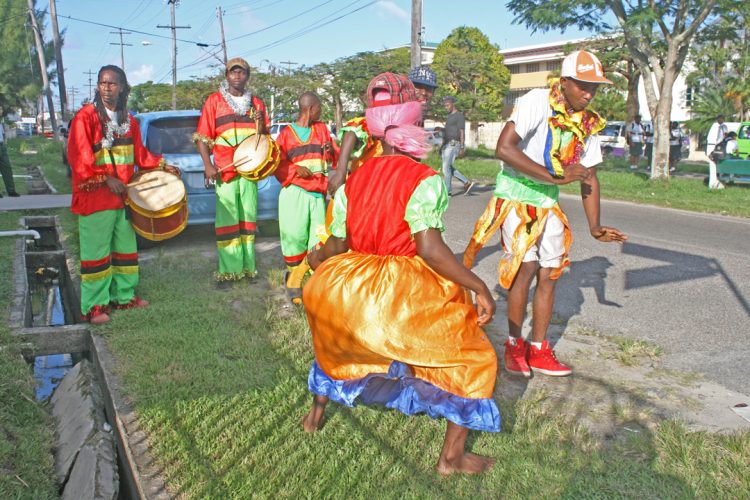 Today, around the streets of Georgetown, small, straggly groups of youths dressed in motley costumes can be seen prancing about, almost to the rhythms of two or three lazy-looking drummers who stand at the side of the road. There is no continuous flow of performance, nor does the display take any particular form or shape; they spring to life every time vehicles pass, weaving through the traffic and blocking the way of passing cars in a good-natured manner.
These are the Guyanese masquerade bands. They make their annual appearance in the city each year at Christmas time and will remain through the season for a few days into the new year, then pack up their props and disappear until next December – perhaps.
These bands are greeted with mixed reactions, moving from nuisance to nostalgia. They are hailed and highlighted, mostly in the newspapers, where they are cheered and celebrated as proclamations of national heritage – of Guyanese cultural tradition. They probably rekindle memories for some. But largely and realistically they are cursed as a nuisance by most motorists who forced to stop – their journeys interrupted by out-of-time prancers wining up in their faces, and then having the audacity to smilingly stretch out a cap for money.
There are ….
To continue reading this article
Comments


For Me – The Back-Yard Play your Carnival, play your masque, Dance with your Country Club set, Hop, jump at your midnight fete; For these things I'll never ask – Take them all and leave for me The back-yard scene at dusk: The haze of blue wood-smoke, Morning mist amid mango leaves And the nancy-story fantasies That the cries of kiskadees From long, long ago evoke.  


Last week we commented on the huge popularity of stand-up comedy on the Guyanese stage, and the way it sells tickets over and above all else in the local theatre.


The curtains closed on the theatre stage in Guyana for 2017 with the annual comedy show c, produced by Lyndon Jones and Maria Benschop.


At lunchtime on December 18, 1989, AJ Seymour (AJS) phoned to ask me if I would be very kind and pass for him that afternoon to take him to the Guyana Prize Awards Ceremony at the Cultural Centre.

Much tribute is being paid to Martin Wylde Carter (1927 – 1997) around this time, and with very good reason.