Small
Guyana is developing the Green State Development Strategy (GSDS) to promote the development of the country.  This initiative is understood to be a part of Guyana's


effort at undertaking climate change mitigation and climate change adaptation.  In other words, it is Guyana's attempt at reducing its carbon footprint and sustaining development.  Many people would argue that Guyana's carbon footprint was small and it should not worry too much about what happens with the atmosphere.  But Guyana's economy will change in the near future with the entry of oil and gas as part of its production structure.  When this happens, the debate about the size of Guyana's carbon footprint is likely to change.  Perhaps the debate might even intensify.  A brief look at what the GSDS hopes to do in the area of climate adaptation, a way of lessening the carbon footprint, could help to inform the discussions.
Proactive and reactive
In discussing the GSDS, it is natural to start by wondering how the GSDS differs from or is similar to the low-carbon development strategy (LCDS).  In doing so it is important to keep in mind what climate change adaptation is all about.  While climate mitigation points to proactive action, adaptation is reactive.  Climate change adaptation refers to dealing with the impact on one's way of life that results from climate change.  This definition recognizes that climate change is already taking place and there is a need to respond to the changes.  The way such changes occur does not leave countries with a defined starting point.  They must establish that baseline.  The definition also makes one realize that climate adaptation consists of two courses of action.  One course of action requires countries to assess the risks and vulnerabilities that they face to sustaining their economic practices and lifestyle.  The other course of action depends on the outcome of the assessment.  Guyana has to decide upon the action to take to resolve the difficulties that it sees and anticipates.  The Intergovernmental Panel on Climate Change presents the assessment and the likely response as three types of vulnerabilities.  For a country like Guyana, the likelihood of risks and vulnerabilities is revealed in the exposure to hazards such as flooding, storms, drought, sea-level rise and potentially excessive deforestation.  Risks and vulnerabilities are also revealed in the sensitivity to the economic activities and infrastructure that could be affected by the hazards.  The third vulnerability focuses on whether or not the country has the capacity to respond or adapt to those hazards.
Prior to the GSDS, the focus was on a low-carbon development strategy (LCDS).  The LCDS is based on reduced emissions from deforestation and forest degradation (REDD).  It sought to guarantee the protection of the forest while promoting economic development. It also sought to conserve biodiversity and sustain vital ecosystem services, leading to what became known as REDD+.  This position reflected the desire of Guyana to provide environmental services to the world for a fee by keeping the forests standing.  Under the LCDS, economic development was linked to REDD+ through various initiatives in alternative energy, agriculture, ecotourism and information and communication technology (ICT).  The Forest Carbon Partnership Facility was regarded as an integral part of the REDD+ programme.  Though Guyana is not actively pursuing the LCDS as an independent initiative, it remains listed as a UN-REDD Programme partner country.
Investments
It should be noted too that Guyana continues to promote investments in ecotourism, information and communication technology, energy and agriculture.  How one proceeds with investments in agriculture, housing and mining will affect REDD+ activities.  The emerging GSDS has broadened the focus of efforts at climate change adaptation.  It subsumes many of the ideas of the LCDS making it a more all-encompassing initiative.  Some of the ideas of the LCDS can be traced back to policies associated with the duty-free entry of computers and accessories to Guyana.  The GSDS embraces more social concerns and expands the reach of climate adaptation to all communities in Guyana.  In so doing, the GSDS should enable Guyana to move along a level trajectory of green growth.
Adaptation
The GSDS covers a wide range of economic, social and environmental interests.  According to information coming out of the Office of Climate Change, the current focus on climate change adaptation in Guyana is on water resource management, climate smart agriculture and community-based disaster risk management.  This focus makes sense given the role of water in agriculture and the relationship of water to mining activities, two major economic sectors of Guyana.  There is concern that the freshwater resources increasingly will become polluted as the mining and industrial base of the country expands.  If Guyana does not undertake proper water resource management, the water stress level will increase and this in turn will lead to habitat loss in freshwater systems.  Because of its linkage to land use, land use change and forestry (LULUCF) for economic activities, water resource management must be considered in the wider context of protecting, restoring and sustaining use of Guyana's terrestrial ecosystems.  Guyana's focus in this area should be on both the threats and opportunities that arise in this sphere of environmental concern, particularly since Guyana intends to remain a major food producer and exporter.
Core competency
The focus on climate-smart agriculture is a recognition that Guyana has a core competency in food production and enjoys the status of a net exporter of food.  It is also a recognition that agriculture affects climate change in a major way.  Globally, agriculture is considered a major contributor to Greenhouse Gas (GHG) emissions.  It is estimated that agriculture accounts for 24 per cent of GHG emissions.  Asia with 44 per cent of the GHG output is reported to have the highest amount while the Americas is reported to have the second highest output of 25 percent.  The remaining 31 per cent is distributed between Africa (15%), Europe (12%) and Oceana (4%). Early studies have shown that increases in temperature and variable precipitation will adversely affect productivity of crops.  More recent studies continue to show too that there was a high degree of uncertainty of the pattern and potential magnitude of precipitation changes.  Here in Guyana, concerns also exist about low productivity, land use practices, soil pollution and soil degradation stemming from current production practices and the impact that climate change will have on these activities.  Insufficient value-added and competition remain critical factors also.
Foreign Activities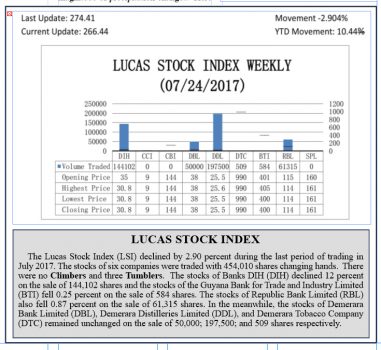 With agriculture contributing to high levels of GHGs, Guyana recognizes the need to use low-carbon systems of production.  Guyana therefore must look for new technologies and production methods which would enable it also to maintain its advantage in food production and exports.  Guyana has several bilateral trade agreements and access to other markets through trade agreements negotiated under Caricom. Guyana has not taken full advantage of the export opportunities to those markets that collectively has a population of over 300 million.  Promoting investments and exports of agricultural products requires Guyana to consider using various types of incentives, including an export credit facility to encourage exports to those markets.  On both the export and import sides, the emphasis on climate-smart agriculture requires Guyana to ensure that it leaves a small carbon foot in the nature of production and consumption.
Energy
A substantial amount of climate change comes from energy sources such as the burning of coal, oil and gas.  The GSDS continues to emphasize the need for clean and renewable energy. Guyana has a menu of alternative energy choices from which to make a selection. These include hydropower, solar, wind, biomass and even gas.  A combination of these various sources of energy would enable Guyana to avoid depending on oil and expanding its carbon footprint.
Some other issues demand immediate attention while others can be pursued over time. Community-based disaster risk management is one issue that is fast moving.  Frequent flooding undermines crops and livestock. It imposes extra cost on home construction to prevent water from entering homes. Unless the water drains quickly, the economic losses can be huge. Under those conditions, disaster preparedness is important.
Education
There is much that Guyana must learn and do with respect to responding to climate change.  Much of the response requires some awareness and knowledge of science and technology.  Education in information and communication technology, physics, chemistry and other science subjects therefore becomes very vital.  Higher levels of science are being taught to a limited extent in schools in Guyana because of insufficient teachers. Education that can increase the capacity of children to learn and absorb scientific information at both the primary and secondary levels becomes critical. Affordability and retention of teachers who can teach these subjects is an issue.  The construction of school laboratories in which students can conduct experiments also is important. Therefore, a very important part of climate adaptation is acquiring and retaining math and science teachers.
Wider focus
The wider focus of the evolving GSDS gives Guyana a greater opportunity of addressing climate change adaptation effectively. The GSDS has the chance of ensuring that investments in critical areas of infrastructure development, housing, mining and food production incorporate the best environmental practices while creating jobs and improving the quality of life.
Around the Web