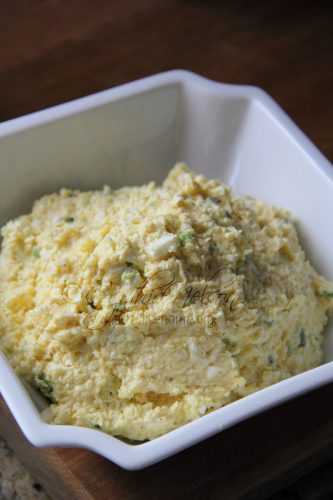 There are several ways in which to put eggs and cheese together to make a sandwich but my favourite way is old fashioned by today's standards, and harkens back to my childhood. Simply put, it is a mash up of boiled eggs, grated cheese, mustard, hot pepper sauce, a little salt and just enough mayonnaise to make it a thick paste.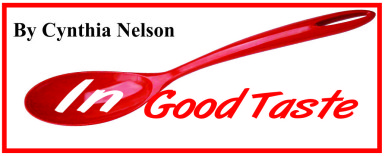 Spread evenly and thickly across a slice of white bread and then topped with another slice of bread, gently pressed together and cut diagonally, it is the perfect sandwich. With every bite your teeth sinks into the soft bread, with its savoury cheesy centre. It is good as an afternoon snack and goes down well with tea.
INGREDIENTS
2 cups finely grated cheese  (preferably sharp cheddar)
4 – 5 boiled eggs, peeled and chopped finely  while still hot
1 heaped tablespoon of mustard, or to taste
4 – 5 tablespoons mayonnaise
Pepper sauce to taste
Salt to taste
Thinly sliced scallions or finely minced parsley  (both optional)
DIRECTIONS
Egg and Cheese Sandwiches (Photo by Cynthia Nelson)

Mash eggs while hot and tender (Photo by Cynthia Nelson)

Egg and Cheese filling for sandwich (Photo by Cynthia Nelson)

Mix together all the ingredients, except the bread, to make a thick creamy paste. Taste and adjust to suit.

Spread the egg-cheese mixture thickly and evenly over a slice of bread right to the edges; top with another slice of bread and press gently. Repeat until all the sandwiches are made.
Stack two sandwiches at a time and cut diagonally.
NOTES
If you want crust-less sandwiches, stack an even number of bread slices and cut the sides using a bread/serrated knife, then apply spread to the bread.
To serve for adult tea gathering, remove the crust and cut lengthways like fingers.
To serve at a children's party, divide the filling and add a drop of colouring and mix well to create pink, yellow, green or baby blue fillings.
Comments

The addition of peas and beans to stews long ago was a way of stretching the meat.

For those among us who have resolved to cook more, at home, here is a dish that is fast and easy to put together – Shrimp Chow mein.

Freshly made cassava bread, toasted with a daub of butter, melting, adds flavour to every bite.

You are getting two recipes out of this one dish – a delicious rice accompaniment to the roast chicken.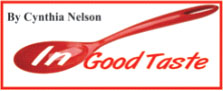 Pumpkin Pancakes Pancakes are always a treat regardless of the time of the year; however, on special occasions, we can make them extra special by stuffing them, or topping them with berries and other fruits cooked right in to the pancakes.