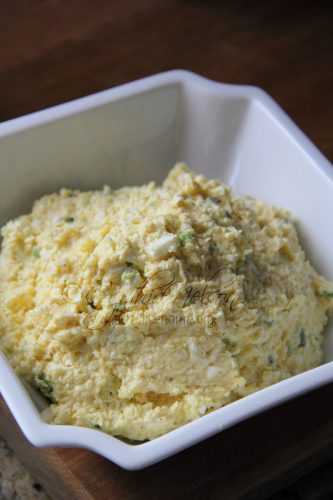 There are several ways in which to put eggs and cheese together to make a sandwich but my favourite way is old fashioned by today's standards, and harkens back to my childhood. Simply put, it is a mash up of boiled eggs, grated cheese, mustard, hot pepper sauce, a little salt and just enough mayonnaise to make it a thick paste.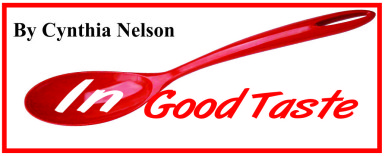 Spread evenly and thickly across a slice of white bread and then topped with another slice of bread, gently pressed together and cut diagonally, it is the perfect sandwich. With every bite your teeth sinks into the soft bread, with its savoury cheesy centre. It is good as an afternoon snack and goes down well with tea.
INGREDIENTS
2 cups finely grated cheese  (preferably sharp cheddar)
4 – 5 boiled eggs, peeled and chopped finely  while still hot
1 heaped tablespoon of mustard, or to taste
4 – 5 tablespoons mayonnaise
Pepper sauce to taste
Salt to taste
Thinly sliced scallions or finely minced parsley  (both optional)
DIRECTIONS
Egg and Cheese Sandwiches (Photo by Cynthia Nelson)

Mash eggs while hot and tender (Photo by Cynthia Nelson)

Egg and Cheese filling for sandwich (Photo by Cynthia Nelson)

Mix together all the ingredients, except the bread, to make a thick creamy paste. Taste and adjust to suit.

Spread the egg-cheese mixture thickly and evenly over a slice of bread right to the edges; top with another slice of bread and press gently. Repeat until all the sandwiches are made.
Stack two sandwiches at a time and cut diagonally.
NOTES
If you want crust-less sandwiches, stack an even number of bread slices and cut the sides using a bread/serrated knife, then apply spread to the bread.
To serve for adult tea gathering, remove the crust and cut lengthways like fingers.
To serve at a children's party, divide the filling and add a drop of colouring and mix well to create pink, yellow, green or baby blue fillings.
Comments

The food videos—BuzzFeed's Tasty leads the pack—that dominate social media are full of ideas, some good and some you would rather not had watched; not this one though.

This is the time of the year when we entertain the most. While there are the big-meal gatherings, lots of cocktail parties abound, as well as having people over for drinks and little bites or nibbles.

The holidays are looming. It is the time of year when we raise our glasses to toast each other and the season.

If you like bacon, then you like and have eaten pork belly. Pork belly is as it states, the belly part of the pig.

One of my favourite Guyanese foods is the white-belly shrimp. Small, soft shell, glistening, pink and so fresh, a thing of beauty and absolutely delicious.