Months after she copped the Miss India Guyana 2016 title Brittany Singh has been stripped of her crown following a series of breaches of the contractual agreement, according to the organisers of the pageant.
And while the organisers have made a public statement about the queen's dethroning she has kept quiet.
Contacted by The Scene the now past queen said that she had no comment and would issue a statement next week.
"I will issue a statement through my attorney [which] will be released early in the coming week," she said when approached.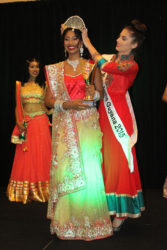 Singh copped the crown last year September and represented Guyana at the Miss. India Worldwide pageant in New Jersey on October 9, 2016 where she copped the Miss Photogenic prize and was placed in the top ten.
According to a statement from the organisers, Singh is no longer in any way associated with the pageant and as such as not authorized to represent herself as the queen since was dethroned as of November 16, 2016.
The action was taken after she received three official warnings—both verbal and written—from the organisation on "misconduct demeanours, as stipulated in the contract she signed on the 7th day of September 2016."
It was stated that the first warning was given on the October 16, 2016 in New Jersey USA, a second warning was issued later that month in Guyana and she was again warned on November 16, 2016 the same day she was stripped.
"Via legal notice, this resulted in the termination of the legally bonded contract signed by Ms Singh and dethroning of titles, privileges and/or responsibilities bestowed upon her, both locally and internationally by the Miss India Guyana Organization and the Miss India Worldwide Pageants produced by IFC," the statement said.
"This termination is based on the breach of the code of conduct established pursuant to clause 4.8 of the Contract, as well as violation of 6.7.2 of the Contract. It is the exclusive judgment of the Miss India Guyana Organization, that in recent months she had not conducted herself in accordance with the standards and dignity expected by the prestigious title and standards as agreed to by her under the Contract," the statement further said.
A member of the organisation disclosed that first runner-up, Tahirih Boodhoo will not become queen as Brittany would have already represented Guyana at the international leg.
Samantha Singh remains Mrs India Guyana 2016 and Mrs Best Smile India Worldwide 2016.
Around the Web