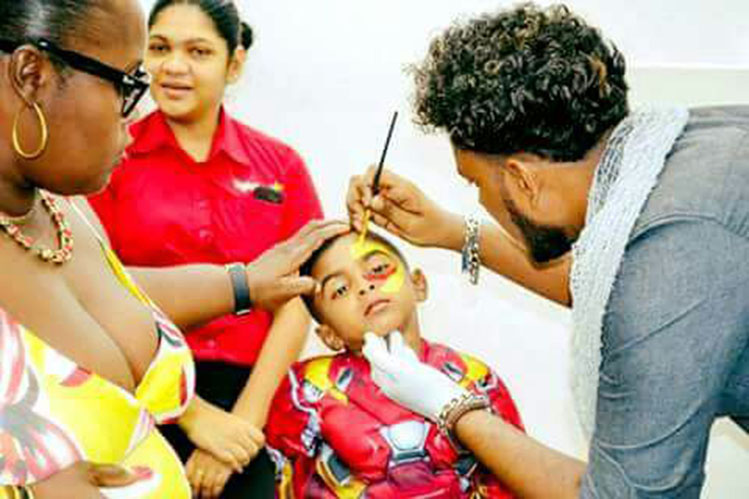 Artist and designer, Sameer Khan has been making waves in the designing arena and is the mastermind behind many of the Mash costumes, the spectacular upside down Christmas tree and the suspending presents at the Giftland Mall that were the buzz of the holidays and led to numerous selfies being posted on the Facebook with his work portrayed in the backdrop.
In a sit-down with The Scene 25-year-old Sameer shared with us the life of turmoil he led when he was younger, his passion for art and designing and his determination.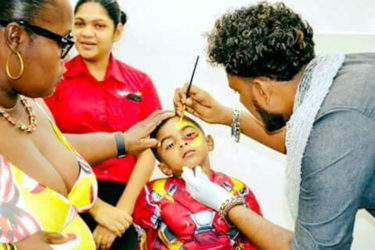 And if one had not heard his story his very present smile gave nothing away and showed not a trace of what once was and maybe even what still is but if so, he gave no hint.
As a boy growing up Sameer was faced with much mayhem but he remained strong and used his love for art as a solitude. His drawings portrayed a troubled side; seemingly a pain he thought he couldn't share. Over the years his books were filled with skeletons, dead trees, a shattered heart burning in flame, an hour glass showing much time gone with only little sand left, a bruised eye with bloody teardrops, skyscrapers being destroyed by meteorites and tsunamis, a rose with jagged thorns losing it petals, a hand escaping from out of the ground, clawing at the dirt and the list goes on. He never thought to colour them but kept them in their black pencil and pen-coloured forms.
Art was what nursed his pain.
An orphan, Sameer lost his father to alcohol when he was just 13, his mother to kidney failure a little over two years ago and his eldest sister to suicide among other traumatic events in his life.
At just six years old the Huis 'T Dieren Primary (situated on the Essequibo Coast) pupil received his first certificate while participating in an art competition. This certificate fed his desire to not just pursue art but to give his best always.
At home, his sister Rihanna challenged him often on who was the better artist. By this time he had begun attending Abram Zuil Secondary and his art teacher, Miss Donnette saw his potential and entered him into a number of art competitions, many of which he won nationally and on the international level as well. Although his sister and teacher played profound roles in his life, his mother he said was his biggest inspiration, "she always believed in me".
By the time he graduated secondary school in 2008 Sameer's passion for the art and designing arena had grown so much that he wasted no time and began training. Always having had an eye for Mashramani costumes, over his years at school, he created a number of costumes and floats year after year. Not long after he left school, he dived straight into designing.
"While in high school I always believed in exploring my capabilities and pushing my limits further, given the opportunity many times to help assist my school with their costumes and banners… I realized I can do more and it was after Carifesta 2008 that made me realize that designing is my thing and there is no limit with art and craft; my skills don't die away but they expand, my mind expands," he said.
Sameer started teaching forms 1-5 Visual Arts and Craft and he did this part-time from 2009 to 2015, at which point he really decided to throw himself completely into designing. For a few years while he was still teaching he designed part time mostly with Theatre Guild. Then in 2010, he got the opportunity to work on the production of a film out of the USA, The Festival of Lights.
"The pay was really great," he enthused. "Beyond what I was expecting and it motivated me to stay with my talent. I got the opportunity to create costumes for character 'Jimmy Mystery' and to travel a bit. I [have] to say that designing in 2010 really boosted me big-time and it was my work that forwarded many customers to me…"
Challenges
"Some of the challenges I've faced initially", he added, "was gaining clients, and because there are so many big companies they don't [allow] you the opportunity to [share] your skills when there are other designers already established but over time I was able to deal with these challenges and they became stepping stones for me."
He added that local designers suffer mostly when there is a lack of resources and they have to improvise by using other materials. There is also a demand for many foreign brands which he said kills the local market and called on people need to show support for local designers.
As the New Year unfolds Sameer plans to continue establishing himself as an artist/designer and to continue mentoring other young designers and hopes that within a few years there will be a great demand for his work on the market.
His achievements so far include: winning an international art competition at age 13 (International Year of Rice Art Competition in 2004), winning the Ethnic Relations Poster Competition (2006), he also participated in the Guyana Rice Development Board logo competition (2008) where he placed in the top three; their logos were merged into one, which is currently being used by the organization and winning the GTT Poetry Competition (2015).
In 2011, he worked along with the designer for Carib Beer and GTT Blue Wave Mash Bands and in 2012 he was the technical designer for Banks Beer band.
Sameer is currently preparing for the fast approaching Mash Day Parade when Guyana celebrates its 46th anniversary since becoming a republic.
Sameer also dabbles a bit in: painting, fabric designs, floral designs, cake decorating, interior and exterior designs and decors, graphic designs, model arts, set designs and dressings for theatre and events (weddings, graduations, etc).
His hobbies are: hiking, paddling, climbing, camping, exploring, hanging out at the pool on weekends, poetry, songwriting, designing and most importantly, drawing. His favourite colours are black and white.
Around the Web