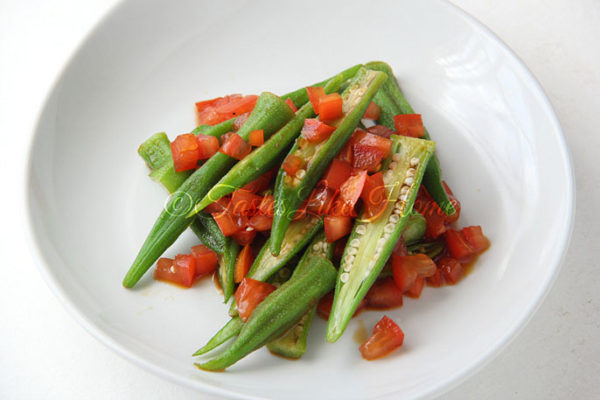 Hi Everyone,
Food, like love, is an every day part of life. On occasions such as Valentine's we combine the two to declare and demonstrate our affection for one another. It is also a time for reflection, and since this is a food column, I'm sharing with you my relationship with four vegetables that are a part of my every day diet.
Baigan (eggplant), bora, okra and karaila (bitter melon) appear frequently on my plate cooked in a number of ways – curried, fried, roasted, sautéed,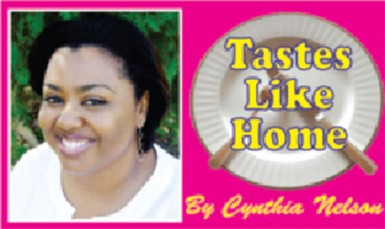 steamed, stewed and stuffed. There are two that I absolutely love and eat weekly; one with which I have a complicated relationship and another for which my love has waned; I only have it on specific occasions. Love; it ain't easy.
Love for the bitter and slippery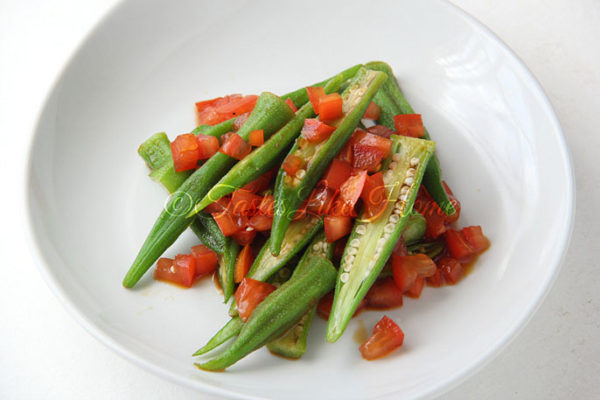 I buy okra and karaila every week. While they are both full of nutrients and are good for you, I like them simply because of their taste and texture regardless of how they are prepared. The bitterness of karaila is an acquired taste and one that I cannot seem to get enough of. I've even taken to sometimes slicing it very thinly and mixing with sliced cucumbers dressed with fresh lime juice, salt and freshly ground black pepper. Depending on how it is prepared, okra can be silky, slippery or crisp. I do not have a preference. I like it any which way. Of the two vegetables, I would have to admit that one gets cooked in more ways than the other.
Okra is steamed, stuffed, fried, sautéed, dropped in curries, soups, mashed or dressed with soy sauce and lime juice to be served as a salad.
Karalia gets stuffed with seasoned ground meat or seafood; sometimes the combo is steamed or cooked in the form of Kalounjie – with a curry paste, tomatoes and coconut milk. At times, it is unstuffed and cooked twice to enhance its texture along with spices, in coconut milk. One way in which I eat karaila for breakfast, lunch or dinner is sautéed (fried with onions, garlic, hot pepper and thyme). At lunch it is eaten with rice or with dhal and rice, for breakfast or dinner, with roti.
When I cook okra or karaila, fried, Guyanese style, I prefer to do so without additions such as shrimp, chicken, salt fish or any type of meat. I consider my love for these two vegetables to be pure and true. I cannot think of any way they could be cooked that I would shy away from eating them.
Complicated love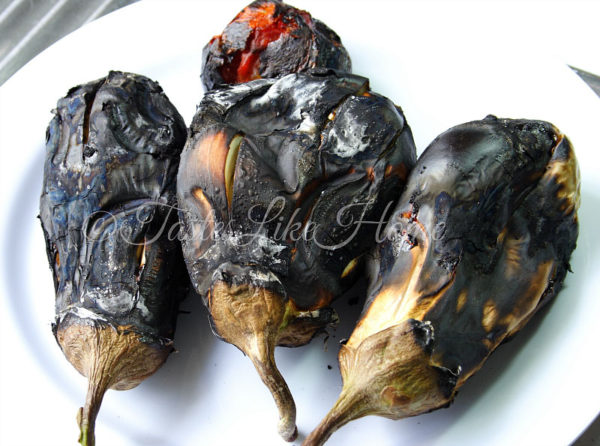 While pure, true love, is a great thing, complicated love means that regardless of your differences, some things will always be a part of your life in a special way. After all this time, and many trials, I still can't come around to eating baigan/eggplant unless it has been fire-roasted. I've tried it stuffed with a variety of ground meats, nuts, cheese, masala coconut, beans and seafood, nothing worked. I've had it grilled served with a range of toppings and dressings; nothing; nada. The vegetable must be fire-roasted. Once cooked and skinned, it can be left whole, mashed, pureed, cooked as a dry curry or the roasted flesh be mixed with other ingredients to create something. It is the only way I can eat it – fire-roasted. I tried oven-roasting eggplant to see if I'd be able to eat it but that did not work. The char and smokiness from the fire-roasting is what makes eggplant palatable and appealing to me. On rare occasions I like it in the form of Biagnee (thinly sliced, dipped in seasoned split pea batter and deep fried). However, if I bite into it and find that the baigan has not been sliced very thinly, I have to discard the entire thing.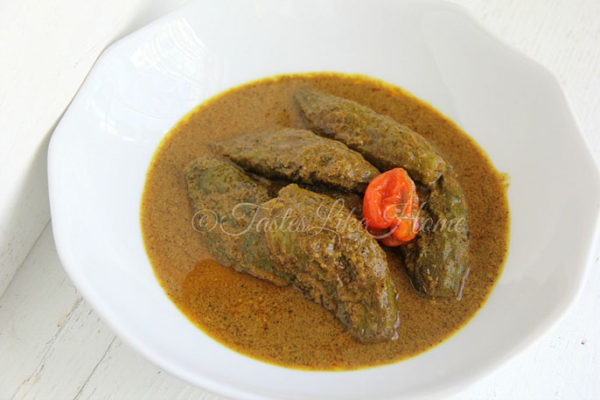 At times, love is not only complicated, it can be fickle too. All your life you could love something; yearn for it, and then one day, suddenly, your love is not as strong. But even though your feelings have changed, that certain something will always have a special place in your heart. Over 18 years ago when I moved to Barbados, one of the vegetables that I longed for was bora, the wonderfully long green beans bundled together, tied at one end like a long thick ponytail. Bora was no where to be found in Barbados back then. A few years later bora began to sporadically appear on the market. Whenever it was available, I'd buy 2 packets at one time even though 1 packet would have been more than enough for me. I'd cook the fried bora by itself because I longed for the taste. Later, I'd cook it with shrimp or thinly sliced potatoes as mom used to. As long as it was available when I'd go to the market, I'd buy and cook bora.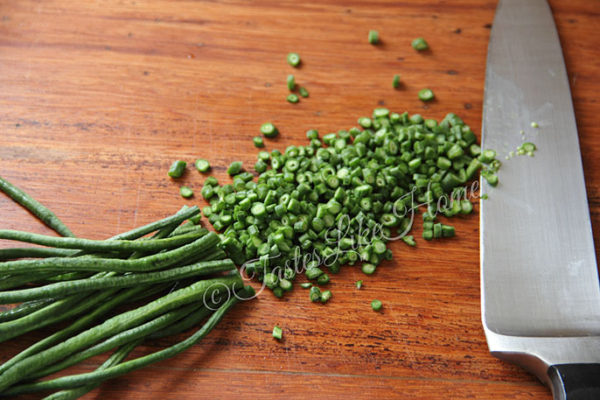 As bora became more readily available I found myself not buying it as often as before, sure I'd buy it to put in fried rice or chowmein but not to cook it in the manner as I did before – as a meal. The last time I cooked bora was with beef; that was about 2 years ago. The meal was memorable because prior to that I had not eaten bora in that way for a long time, and it tasted really good. These days, I see bora regularly at the market but I only reach for it if I am making Fried rice, Chow mein, Thai fish cakes or any dish that I think would benefit from having it included.
That's my veggie love story – pure, true, complicated and fickle. What's your relationship with veggies? Do you have a love story to tell? I'm listening.
Cynthia
cynthia@tasteslikehome.org
www.tasteslikehome.org
Comments

Hi Everyone, Several years ago while standing in the cashier line at one of the supermarkets here in Barbados, a man (tourist) standing immediately behind me pointed to the small tray I had just put on the cash belt and asked what it was.

Hi Everyone, What's Cooking is a series in which I answer questions and share advice about food and cooking that you may have but are too shy to ask.

Hi Everyone, Have you had your fill of mangoes yet? Me? Almost. Next week I am going in to preservation mode – pureeing the pulp and freezing in half cup portions for use later in the year.

Hi Everyone, This is the third and final part of our heat series on hot peppers.

Hi Everyone, This week, we continue our heat series featuring hot peppers currently in season.