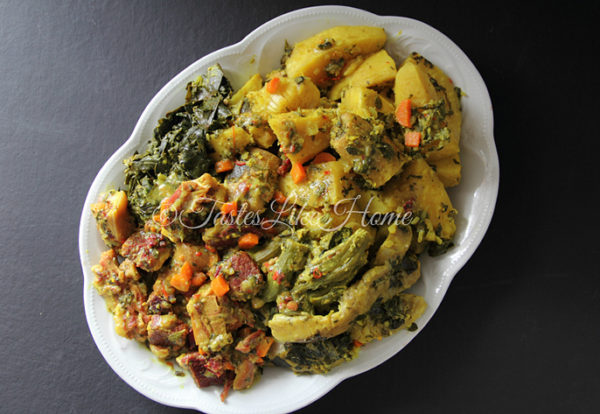 Hi Everyone,
Get a big pot with a cover because a lot of things have to be layered in it to make this dish. Invite some people over, family and friends, preferably the ones whose company you really enjoy because it is going to be a long day. Be sure to include those who do not mind helping out to peel ground provisions, grate coconuts or cut up seasoning. If you have space in the yard to put some wood and create a fire to cook "bush cook" style, all the better. Make sure the bottled or canned drinks – alcoholic and non-alcoholic – are ice cold. The harder stuff, well keep them cool in the shade with lots of ice on hand with chasers.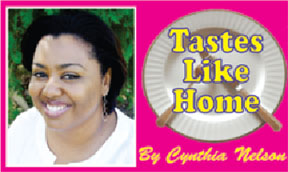 Do not make plans for the rest of the day because you will find it hard to move after eating. Besides, we liming.
Grenada celebrated 43 years of independence last week, and it is traditional to make the country's national dish – Oil Down, to celebrate the occasion. However, Oil Down is not only made at independence, it is cooked all year round, especially at weekends or for the gathering of family and friends, to connect, and to share. The first time I ate Oil Down was over 2 decades ago at the home of friends in Grenada.
Oil Down is a one-pot dish comprising breadfruit as one of the main ingredients, yams, green bananas (aka figs), dasheen (a variety of eddo aka taro); vegetables such as carrots, cabbage, and eddo leaves. Meats of the salted kind – beef, pork, fish. Some fresh meat is also used – chicken or beef. Flour dumplings, lots of fresh coconut milk and turmeric, a key ingredient, round out this dish. Fresh turmeric gives the dish its signature deep gold-yellow hue and adds overall flavour. Fresh seasonings like celery, thyme, basil, onions, garlic, hot and mild peppers are used to season the meats and the entire dish. There is no one set recipe for Oil Down, each household and each parish makes it to suit their preference.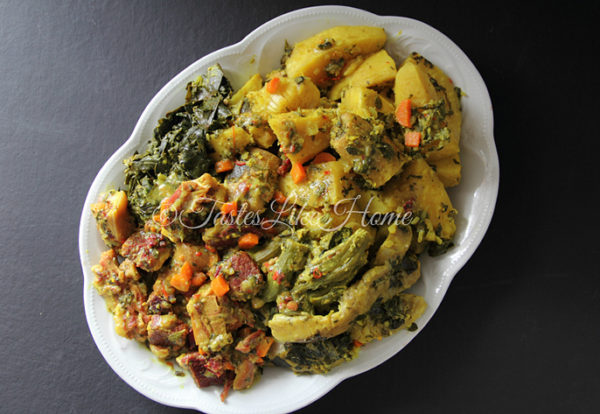 Throughout the Caribbean we can find dishes similar to Oil Down. In Guyana, Mettagee quickly comes to mind, in Trinidad they make Oil Down too, the colour of their dish coming from the use of annatto seeds/achiote. In Jamaica, Run Down, a stew made of salted mackerel or fresh fish and yams cooked with fresh seasonings in lots of coconut milk is served alongside dumplings and boiled breadfruit. Regardless of where you are in the region, these dishes are different yet similar; they are familiar but distinct, like us. While Guyana's Mettagee, Trinidad's Oil Down and Jamaica's Run Down all have varying degrees of sauce when they are done cooking, not so with Grenada's Oil Down. All the liquid in Oil Down – from the coconut milk is cooked down, dried out, hence Oil Down.  The meats, ground provisions and vegetables are imbued with flavour and glossy with the oil from the coconut milk. The ingredients are layered into the pot with the ingredient that would take the longest to cook placed at the bottom and the other ingredients stacked in ascending order, with the quick cooking vegetables like cabbage at the top. The dasheen/taro/eddo leaves are chopped and placed at the top of all the other ingredients creating a shelter. With the lid on the pot, everything gets cooked in a sealed controlled environment.
About half an hour into cooking the aroma is going to make you crazy hungry but you will have to wait, for at least an hour. You must find ways to distract yourself. The Oil Down is done when all the liquid is gone or dried down; there is no exacting timing because it depends on the size of the pot, the heat etc. The Oil Down is done when you open the pot and no longer hear the bubbling of liquid. There is absolutely no harm in you making your Oil Down with a little sauce, but the first time you make this dish, try doing it the way it is supposed to be cooked before deviating too much. This way, you can determine which way you like it best.
Ready to make some Oil Down?
Cynthia
Cynthia@tasteslikehome.org
www.tasteslikehome.org
Oil Down
This recipe is based on my interpretation of the dish. Some of the ingredients for this dish require overnight preparation so it is important to plan ahead.
This recipe feeds 10 – 12 people, half the ingredients if cooking for 5 – 6 people.
SPECIAL EQUIPMENT
Large pot with cover
INGREDIENTS
For oil down:
1 pound salt beef, cut into chunks
1 pound salted pork (pig tails), jointed
1 pound salt fish (bone-in or boneless)
Fresh green seasoning (recipe below)
2 – 3 pounds chicken thighs, and drumsticks, washed and pat dry
1 large breadfruit
3 pounds yam
3 pounds green bananas (substitute with green plantains)
2 pounds turning plantains or firm ripe plantains (optional)
1 pound of carrots, peeled and cut into chunks
1 pound okra, stems removed
1 cabbage (optional), quartered with the core intact
10 – 12 cups fresh coconut milk (2 ½ – 3 liters)
4 – 5 large fresh turmeric root (or 1 heaped tablespoon ground turmeric)
1 large bunch of eddo leaf callaloo (aka dasheen/taro leaf)
3 cups all-purpose flour
Salt to taste (see notes below)
For green seasoning:
Onions
Garlic
Celery
Thyme
Hot and sweet peppers
Basil (married-man pork)
Salt to taste
DIRECTIONS
Pre-prep:
Soak the salt meats and salt fish in tap water overnight, changing the water twice. Soak the salt fish separately from the salt meats. When ready to cook, drain well. Separate the salt fish into large pieces. If you have used bone-in salt fish, remove the bones and scrape off the skin. Set aside.
Blend together or grind the ingredients for the green seasoning and use as much as needed to season the chicken. It is important that the green seasoning has in enough salt to taste as that is the salt needed to season the chicken. Set aside.
Cut the breadfruit in half then each half into 4 pieces lengthways; peel and core each piece. Cut the breadfruit further by halving each piece; you should have a total of 16 pieces. Set aside in a bowl with tap water.
Peel the yams, green bananas/green plantains, ripe plantains. Cut the
yams into large pieces, leave the green bananas whole, if using green plantains, cut them in half crossways, same for the turning/ripe plantains. Set aside in a large bowl with tap water.
         Mix together the coconut milk and turmeric and set aside.
         Remove the stems and roughly chop the eddo leaves. Set aside.
Knead the flour with water or some of the coconut milk to form a dough,
cover and set aside.
Assembly:
Arrange the seasoned chicken at the bottom of the pot.
Lay the breadfruit on top of the chicken followed by the salt beef and pigtails.
Add the yams, green bananas/green plantains next and then the salt fish.
Scatter the carrots.
Pour in enough coconut milk to come up to the top of the ingredients. Put
over high heat and let it come to a gentle boil.
When the pot comes to a slow boil, add the turning plantains and cabbage.
Tear off small pieces of dough and roll lengthways into dumplings.
Arrange the dumplings and okra in the pot then pour in more coconut milk
to come up 2 – 3 inches shy of covering the added ingredients.
Spread the chopped eddo leaves to completely cover the ingredients; be sure to spread it to the edges to lock in the moisture.
Cover the pot with a lid and let come to a boil; cook over medium high heat
for 1 hour or until the liquid has dried out. You will know it is ready when                you remove the cover and no longer hearing the sound of liquid cooking.
To serve:
Get a couple of large platters and remove the food, grouping it by ingredients, and evenly distributing it on both platters so everyone can get a little of everything. For example, remove the callaloo first, followed by the dumplings, okra etc. making your way down to the bottom of the pot.
NOTES
You have 3 options of seasoning the dish with salt.
0    Option 1 – only soak the salt meat and salt fish for 1 hour in tap water before
cooking, this way, they will retain a lot of their salt and that should be enough to season the food.
Option 2 – sprinkle salt between each layer as you assemble the ingredients
in the pot. (I used this option)
o   Option 3 – season the coconut milk with enough salt to taste so the                ingredients will be seasoned as it cooks with the coconut milk.
Sweet potatoes, English potatoes, pumpkin and corn on the husk can be added to the dish too.
If you are using beef in this dish, it is better to par-cook it half way through before adding it to the pot.
It is important not to completely cover the ingredients with liquid as this will cause the pot to boil over and it will also mean that the ingredients will  overcook and become mushy.
Comments

Hi Everyone, As a self-confessed weekday vegetarian, my friends tease me that I have it easy during Lent; that I have a readymade forbearance.

Hi Everyone, I'm rubbing my hands with glee – it's Pancake day on Tuesday!

Hi Everyone, Layering slices of fried, sweet, caramelized ripe plantains in your sandwich is a game changer.

Hi Everyone, What's Cooking is a series in which I answer questions and share advice about food and cooking that you may have but are too shy to ask.

Hi Everyone, Guyana opened its latest fast food restaurant chain in December – Burger King – and from all accounts, it's a huge success.