Although makeup artist Brandon Chase is one of the newest kids on the block his work already speaks for him and he has had his fair share models, weddings, graduations, birthday parties and even a pageant in the last three years.
When The Scene sat down with Brandon earlier this week he shared his passion for the art and the challenges he has since faced pursuing it. It was not an easy road getting to where he is today as apart from the fact that there are many like him and people not wanting to pay for his services his biggest challenge came from those close to him who wanted him to kill that dream.
Brandon had always found himself drawn to art and fashion for as long as he could remember but kept the idea of pursuing it to himself for fear of being criticized by the people he loved dearly; including his circle of friends at school. Yet, every day he secretly watched the RuPaul Show (a show of drag queens and models co-hosted by makeup artists Jeffrey and Manny) on YouTube.
They are his biggest inspirations. With each new show, his fascination grew and by age fifteen he did his first makeup art on himself, secretly of course. For years he kept his secret hidden practicing on himself again and again, all sort of different ways he could put make up on, sometimes trying out a bold look and sometimes just a sultry made up face when he was trying to get that nude look.
"As a child growing up my passion and inspirations to become a makeup artist came from looking at many pageants and TV shows namely, RuPaul and my favourite singer, Adam Lambert. It was because of them that I realize anyone can live their dreams regardless of gender identity, disability or colour", Brandon said.
Some years later in 2014 when he couldn't just do his face alone anymore and had been anticipating trying his skills on someone else, he did a relative's, then more relatives and friends. But all this was again kept secret from his parents who after finding pictures made him delete all trace of his work and would lock him away.
Doing makeup for birthday parties and other occasions found Brandon showing up only for a little bit to get his work done before  disappearing again not wanting to be caught. He turned out to be sort of the 'invisible makeup artist' whose clients' faces were done but never a name for the one responsible for their fabulous looks. Feeling suffocated and his passion being stifled, he left his parents' home to pursue a dream he's been dreaming for years.
February of 2016 would be the first time that the 'Invisible Makeup Artist' would step out in public wearing his makeup. Since then work has been pouring in. "….When I came out wearing makeup I expected the worst", said Brandon who expected to be crucified. "Although people reacted, obviously, I never found them offensive. The ladies would ask me to do theirs and the guys would just stare," he said.
Though his parents are still not supportive of what he does, since Brandon began publicly doing makeup artistry, he's since gained tremendous support from others, including clients and especially from designer Sameer Khan and renowned dancer and model, Paul Charles.
Then in May of last year, Brandon completed a professional Maybelline and MAC course in New York through Flawless by Tennisha and wants to return the favour of helping aspiring artists improve on their skills at an affordable cost. However this would be until early next year as he's set to travel to New York on June 14th where he'll be busy at work getting participants all prepped for the launching of a Labour Day Mash Band there.
His most recent work, was the Honest Illusion Mash Band.
Brandon favourite features on the face to concentrate on are the eyes and around it. "I love makeup because of the glow that it gives you, that ageless appearance, and the youthfulness. I have a thing for brows. I would have to say the best part about doing makeup is the brows. I believe eyebrows are what really shows up everything with makeup", he said, adding that as of lately the eyebrows seem to be the focal point of the face. Two things he mentioned women and men who are into makeup should never go without are powder and eyeliner. These he said defines you well and are a must.
Being a fulltime makeup artist Brandon said can be challenging with not much shows as he anticipated being done. It is his hope though that more can be done, and makeup artistry can be boosted in Guyana.
Brandon is currently gearing up for August as he's a part of the team of persons responsible for the Mr/Miss/Mrs. Guyana African Roots contestants.
He admonishes persons like himself to build on their talents, and pursue their dreams no matter the negativity hurled at them.
His hobbies includes: browsing the net, travelling, looking at Makeup tutorials on YouTube, listening to music, exploring nature and practicing his makeup skills.
His favourit colour is green and he is a big cat lover.
His favourite dishes are: Pot roast chicken, chowmein, chicken curry and lasagna.
"In another decade I hope to be one of the most demanded Makeup artist in Guyana, take my skills to the cosmetology level, teach courses and have my own salon."
Brandon can be contacted via Facebook at Brandon Khan.
Comments

GEMS Theatre Productions presents a new half an hour sitcom "Days Like Dese," a family-oriented comedy that surrounds the Rupauls, a middle-class Guyanese family.

Just three weeks short of the staging of the Miss Guyana Renaissance pageant, twelve ladies are kept busy perfecting dance routines, walk and speeches.

Twenty-year-old Keisha Brazh under the African name 'Serwah Mawusia,' is representing Ghana.

Put to task at the age of just ten to help to create the family's Christmas cake propelled Rabina Shivraj into a world of baking and decoration and today she has learnt the art of hooking her customers, first with her creativity and secondly with the taste of her creations.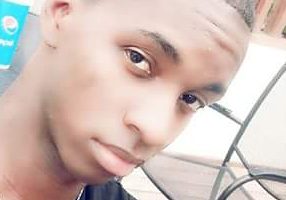 By Joanna Dhanraj With August fast approaching, the contestants of the Mr and Miss Guyana African Roots 2017 pageant are busy perfecting their skills for their big nights.