Gabriella Chapman is this year's representative to the Jaycees International Queen show in Antigua, the oldest pageant production in the Caribbean.
According to a press release from pageant coordinating company Simpli Royal, Gabriella, the reigning Miss Bartica Regatta was also the first runner-up for Miss Mash Queen 2017.  Gabriella will join the other contestants in Antigua from July 30 to August 1. She will be chaperoned by Simpli Royal head Pamela Dillon.
The press release stated that she will showcase her country through song and presenting on "our green initiative".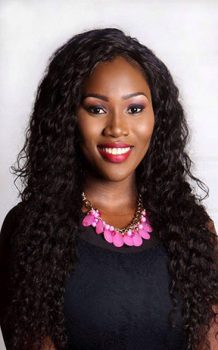 Comments

Having been able to keep huge corporate client Demerara Distillers Limited has had Makeup Artist Cideca B Mangal turning heads for quite some time.

Dancehall artiste Keon 'Rictyza' Forde will be releasing three brand new singles just in time for the Mashramani season.

Authentic jewelry, handmade with stones and beads is accessible at the newly opened Divas Art and Craft Store located in the Avinash Complex on Water Street, which boasts of producing pieces that will last for a lifetime.

Nigel Butler, a former Burrowes School of Art student, is making great strides with his unusual artwork around Guyana.

The Guyana Ballroom Dancers Association (GBDA) hosted its third show and dance off last Saturday night at the King Solomon Hotel (Main Street Plaza).