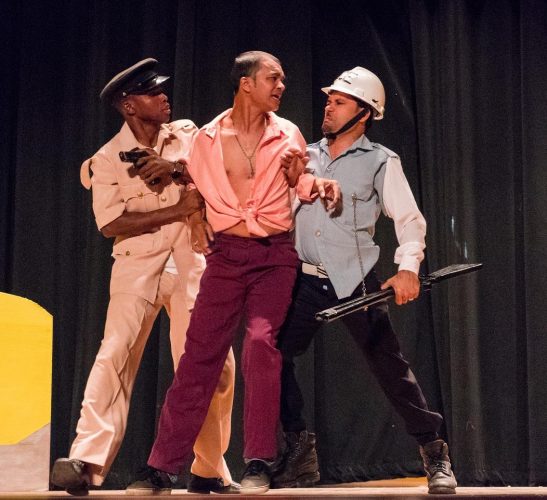 After four nights of excitement and non-stop laughter at the National Cultural Centre recently, the theatrical production Nothing to Laugh About 10 will be taking their entertaining bevy of actors to four other regions in Guyana.
This year marks a decade for the production and the team plans to put on a grand show to mark this milestone.
In an interview with The Scene, long-time producer, Maria Benschop said she is ecstatic that the production has come this far. The shows are done in mini skits format which seeks to depict real situations in the country, which while not funny is done in a humourous. By using tragic scenarios and finding the amusing lighter side the audience can relate and instead of being suppressed they can learn to elevate themselves to rise above the unfortunate life experiences.
The local comedy show portrays story lines set for all individuals beyond the confines of age or culture and is specifically designed for family affairs. The Nothing to Laugh About show is known for attracting large crowds and will therefore be an open-aired event.
The show is scheduled for Line Path Centre Ground, Skeldon, Corriverton tonight, New Amsterdam Technical Institute on September 9th, Feroze Fun Park, West Berbice, September 10th, MSC Ground, Linden on September 16th and Anna Regina Ground, Essequibo Coast on September 30th.
Showtime for all staging will be 20:00hrs.
Tickets prices for adults $1,000 and children $300.
Tickets can be purchased at the Skeldon Post Office, Royal Graphics & Gadgets, Sukhpaul Gas Station, Price is Right Supermarket and Giftland Mall.
The cast of actors consists of, Mark Kazim 'Chinee Man', Chris GoPaul, Michael Ignatius commonly known as 'Credit, Sonia Yarde, Lyndon 'Jumbie' Jones, Clemencio Goddette, Gerard Gilkes, Johann David, Brian Goodman, Leza Singh aka Radika, Leon Cummings, Mark Luke-Edwards, Kirwyn Mars, Alana Craigen, Simone Persaud, Zoya Moore and Ashley Alfred.
Comments

One day she took all of her savings and ordered camera equipment, giving in to the pull of photography; she has not looked back since.

Eight gorgeous young women will vie for the inaugural Miss Teen Yarrowkabra crown on Saturday, November 25, at the Yarrowkabra Gym.

Last evening 18-year-old Vena Mookram would have flown the Guyana flag high on stage at the 67th Miss World pageant at the Sanya City Arena in Sanya, China.

Come tomorrow night at the Giftland Mall patrons would be treated to the 'Best of Nothing to Laugh About' which would comprise some of the best skits that show did over the last ten years since it entered the entertainment industry.

At just minutes to midnight on Sunday, November 5, Cindyann Khan was crowned the new Miss Guyana Talented Teen, and Oshay Roberts the first ever Miss Princess Guyana before a large gathering at the Promenade Gardens.