Samantha Grant, known for soca hit song "A Feel to Rock Meh Body" is back and set to take the stage by storm tonight, when she launches her second album more than a decade after release of her hit song at her birth-night bash with a concert dubbed 'Denim & Diamonds' at Club El Latino in Georgetown.
The CD 'Back in Town' comprises ten originals and was recorded by Ssignal Productions. Writing, composing and recording took the singer and crew, specifically producers Bonny Alves and Charmaine Blackman just six weeks. The CD is said to be mainly soca, not power soca but a 'groovy' kind. There are also three songs of reggae genre listed.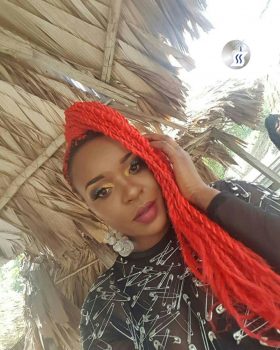 The idea behind the album is to feature the independence of a woman.
'Back in Town' came after the artiste's return to Guyana last November; she had spent 13 years abroad. Though it's been quite a while since she's put out a song, the singer is excited and elated about her new release.
The concert 'Denim & Diamonds' is so dubbed because of the artiste's favourite colour blue and as she puts it "Diamonds are a girl's favourite".
A few months ago Samantha took an audience at the National Cultural Centre by storm when she gave a powerful performance of "Rock Meh Body" that had the crowd singing along and rang in applause in the end. The Denim & Diamonds concert is expected to be a blast even more so as the concert will see some of Guyana's finest artistes in performance.
The 'Rock Meh Body' album was released when Samantha was 19 years old. It was produced in Trinidad. The album comprised six songs and six instrumentals. Samantha added that she cannot compare the two albums as both have their own signatures but does admit that her voice is richer and even more powerful than it was years ago when the song first rocked the Caribbean.
'Back in Town' will be on sale at the concert for a price of $1,500. Persons can have the DVD along with the CD for a giveaway price of $2,000. Beverages will be on sale and patrons will also be treated to the delights of free appetizers (finger foods).
Also performing will be: Charmaine Blackman, Kwasi Ace, Vanilla, Roger B, Big Red, Jumo and Beverley Smith.
The songs on 'Back in Town' are: "Independent Ladies," "Don't Lie to Me," "When Will You Return," "Love Ya Country," "Leyland and the Cat," "Trust in Jah," "Private Dancer," "Let the Culture Reign," "No Guns Allowed" and "Back in Town".
Showtime for the concert is 20:00 hrs and admission is $2,000.
Comments

Having been able to keep huge corporate client Demerara Distillers Limited has had Makeup Artist Cideca B Mangal turning heads for quite some time.

Dancehall artiste Keon 'Rictyza' Forde will be releasing three brand new singles just in time for the Mashramani season.

Authentic jewelry, handmade with stones and beads is accessible at the newly opened Divas Art and Craft Store located in the Avinash Complex on Water Street, which boasts of producing pieces that will last for a lifetime.

Nigel Butler, a former Burrowes School of Art student, is making great strides with his unusual artwork around Guyana.

The Guyana Ballroom Dancers Association (GBDA) hosted its third show and dance off last Saturday night at the King Solomon Hotel (Main Street Plaza).