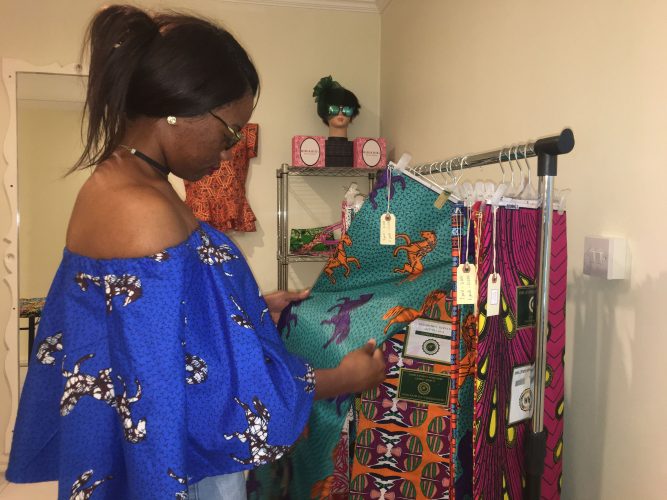 Nigerian designer, Deborah Kehinde is the go to person for original quality African prints in Guyana. Dara, as she's commonly called, has since launched two collections dubbed 'Fumilayo' (meaning Give me Joy) and Odunayo (Year of Joy) and recently made accessing her pieces  easier with the opening of her Rhoda Doxa Store.
Dara, who grew up in the African country, said Nigeria is all about African print day-in day-out. 'Ankara' (fabric), as African prints are referred to in her country, is never only for special occasions but is worn on a daily basis back home. In fact, when she was born, she was swaddled in Ankara. Growing up in a shop where her mother is a designer, she grew to love at an early age the making of designer pieces.
Her pieces are tailored to suit any occasion; be it for that professional work look, elegant occasions and even the simple hang out informal pieces. What makes her African prints go quickly is the pocket friendly prices for her pieces made from authentic imported African material…..
To continue reading this article
Comments

Nineteen-year-old pop/soul singer/songwriter and personal designer Jasha 'JJ Artz' Abrams, when he isn't making a statement with his voice is doing so with fashion.

During my extremely short-lived tenure as a model for Donna Ramsammy-James when I lived in Guyana, I was always hesitant of highlighting it as something that I did.

Canada-based Guyanese and humanitarian Sangeeta Bahadur finished as second runner-up in the Miss India Worldwide Pageant at the Royal Albert's Palace in Edison, New Jersey last Sunday night, October 8.

The wee hours of Sunday morning saw 20-year-old stunner, Sherryanna Balkaran of Paramakatoi being crowned Miss Indigenous Heritage at the National Cultural Centre.

Guyanese will this evening be treated to a display of fashion and live entertainment at Tower Suites poolside as in honour of Miss World Guyana 2017 Vena Mookram as organisers also attempt to raise some much-needed funds to cover her wardrobe for the Miss World competition being held in China which kicks off October 20.