Nigerian designer, Deborah Kehinde is the go to person for original quality African prints in Guyana. Dara, as she's commonly called, has since launched two collections dubbed 'Fumilayo' (meaning Give me Joy) and Odunayo (Year of Joy) and recently made accessing her pieces  easier with the opening of her Rhoda Doxa Store.
Dara, who grew up in the African country, said Nigeria is all about African print day-in day-out. 'Ankara' (fabric), as African prints are referred to in her country, is never only for special occasions but is worn on a daily basis back home. In fact, when she was born, she was swaddled in Ankara. Growing up in a shop where her mother is a designer, she grew to love at an early age the making of designer pieces.
Her pieces are tailored to suit any occasion; be it for that professional work look, elegant occasions and even the simple hang out informal pieces. What makes her African prints go quickly is the pocket friendly prices for her pieces made from authentic imported African material.
However, she admits that the prices may be a little more than other store bought prints but which are most times not original. Not only does her pieces, in her own words, make an African woman stand out because of their exquisite designs but also because of the authentic fabric they can be worn at any time and not just for certain occasions.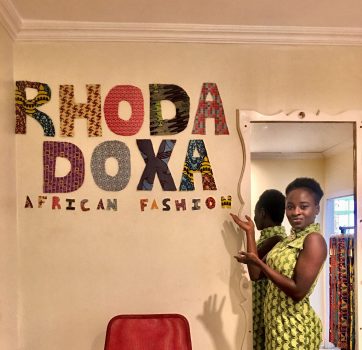 Just for quality fabric customers have been travelling outside of Georgetown to have their measurements taken and then back again to pick up their designer pieces but now with a store in Georgetown, getting quality designer pieces have gotten easier.
The Rhoda Doxa Store, Dara noted has always been a dream of hers. She had hoped one day that she'd be able to open a store like her mother back home and she feels privileged to open her first of other stores to come in Guyana and the Caribbean.
Rhoda Doxa allows for persons to purchase ready-made pieces, buy the raw fabric and/or have their measurements taken and get their ideal one of a kind piece. It also caters for those persons who already have their sewn pieces but want to match or make a statement with their hand designed choker, bow tie, hair bow and shoe laces accessories.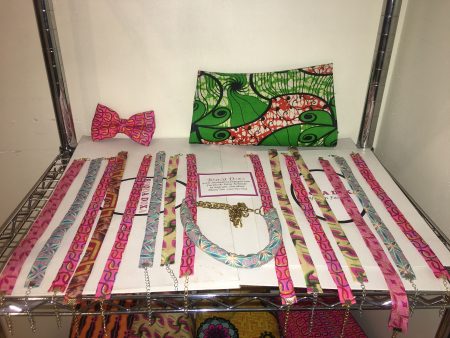 According to the designer for persons visiting the store from Thursday September 28th to Saturday 30th between 11am to 5:30pm will receive special giveaways of accessories while stock lasts whether they choose to make a purchase or not.  The offer ends today.
The Rhoda Doxa Store is located in the Tower Suite Hotel, 74-74 Main Street, Georgetown and will be opened Mondays to Fridays from 10am to 6pm.
Around the Web