This year, perhaps more than at any time in its previous ten years of the event's existence, the unceasing insistence by Roraima Group of Companies CEO Gerry Gouveia's that his company's annual Wedding Expo is underpinned by a significance that goes beyond the glitz and glitter of an exotic wedding ceremony for some hitherto unknown couple was in evidence.
On Saturday evening the sustained procession around the Roraima Duke Lodge's modest pool by elegantly dressed young men and women parading wedding costumes and attractive 'dressy' clothing mirrored the country's multi-racial fashion traditions. What was in evidence – if you were looking closely, that is – was the unfolding of a unique marketing exercise. The assembled fashion designers and small vendors were parading their offerings to a highly receptive market, stern-faced couples eyeing the pieces fixedly and occasionally indulging in brief animated exchanges on preferred costumes, perhaps for their own weddings and for other occasions that required them to 'make an appearance.'
On Saturday evening, one of the many small family businesses at the Wedding Expo passed up an interview with the Stabroek Business to 'tie up' business with a couple that had gone there to secure services relating to the decorating of the Hall for their wedding reception. Another vendor offering video and photography services disclosed during a post-event briefing that the opening night of the event had gone so well that his firm had had to provide photographic and video services for an event on the following day. Another vendor, a hair stylist had entered into an arrangement to style the bridesmaids' hair for a wedding scheduled for the end of April. All of them seemed impressed with the fact that such volumes of business could be secured on the first night of setting out their stall at the Duke Lodge.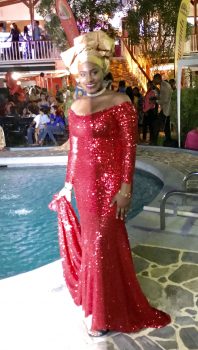 Simultaneously, scattered across every available space inside the Duke Lodge was an assortment of vendors ranging from the local jewellery company, Kings Jewellery World to the smallest of family businesses like Simply Sweet, offering a range of cakes baked in their kitchens at home in South Ruimveldt. All of these appeared genuinely pleased that the Wedding Expo has 'come around' again. They seemed hopeful rather than wildly optimistic.
Once you can move your mind beyond the glitz and the music, once you begin to browse, you come to realize that many of the visitors to the Wedding Expo go there with a mission.
There were stories too of micro businesses that had  'dragged' themselves to Wedding Expos on shoestring budgets and not a little charity from the organizers and a few years later had metamorphosed into businesses which, these days, are simply too busy with their own now successful businesses to find the time to participate in the Expo. Gouveia told the story of a vendor who had displayed her cakes at the first Wedding Expo free of cost but who, since then, in a splendid gesture of gratitude, has donated the wedding cake for the 'dream' wedding every year.
Everywhere too, there is generous evidence of public/private sector collaboration to piece together the elements that comprise the Wedding Expo. This year, the event's Exhibitors' Diary listed business offering Make-Up services, Beauty Salons, Hotels, Venue Rentals, Cake Decorators, Floral Arrangements, Catering, Photography, Dress Design & Accessories, Beverage Distributors, Shipping Agencies, Ice Cream Manufacturers, Jewellers, Wedding Decorators, Car Rentals, Event Coordinators and Financial Services. Each of these, it seemed, has come to the Wedding Expo much more than hopeful. We discovered, too, that some of the vendors were taking an integrated approach to engaging the market; makers of bridal gowns, for example were steering guests in the direction of jewellers; photographers, having secured contracts were lobbying for their videographer friends and vendors offering cake-making services were eagerly recommending caterers. All of these arrangements had been pre-planned, the idea being that there was much to be gained by working together,
This year, too, the business community's support for the Wedding Expo and particularly for the accoutrements and services associated with a wedding was also in evidence. We counted twenty- one such sponsors including House of Pearson which sponsored the wedding dress, John Lewis Styles which sponsored the groom's suit, tuxedo and shirt, Banks DIH Ltd which provided the wine and beverages and Karen's Cakes, sponsor of the Bride's cake.
At the end-of-event media briefing held earlier this week a few of the small vendors had turned up to share their experiences with the media. The Wedding Expo had provided them with their initial breakthrough and they were banking on an increase in visitor weddings arising out of Parliament's anticipated amendment of current legislation to allow for couples to get married after spending a considerably shorter period here.
Around the Web