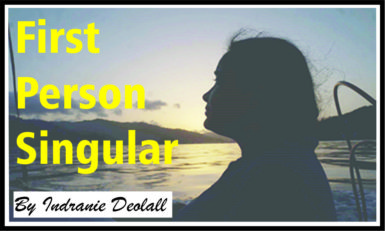 Leaping into the air, the lanky Trinidadian medium-pacer with the trademark tan mohawk took a spectacular right-hand catch, gripping the ball even as he tumbled at mid-on. For that dazzling instance, the fieldsman appeared to defy not only Guyanese gravity but all of his 37 years. Against the deafening roars of approval from the Providence crowds, the watching Pakistani bowler strolled back looking most amused, as the bearded victim unexpectedly smiled broadly, visibly declaring "Wow!" in admiration and shaking his helmet-covered red head in complete disbelief.
Just over a month ago, cricketer Rayad Emrit proved the master of the mercurial moment and the temporary toast of  fickle fans, for the stunned Barbados Tridents' batsman walking back to the pavilion was the elegant New Zealander, Martin Guptill, the world's second highest scorer in One Day Internationals (ODIs). With huge grins, triumphant high-fives and joyous jumps, Emrit celebrated with thumping teammates from the Amazon Warriors side, including the exciting pair of hard-hitters, lead-scorer Shimron Hetmyer and Sherfane Rutherford.
Days later, Hetmyer, 21, became the youngest player to score a century in the Caribbean Premier League (CPL), against the Jamaica Tallawahs. Rutherford almost broke the League's record for the fastest 50, ending on 45 not out off 13 balls with one boundary and six sixes in an explosive encounter with the losing Trinbago Knight Riders (TKR), captained by Dwayne Bravo who had a particularly testing time this season.
Emrit would end up abruptly stripped of the captaincy he was thrust into following the sudden departure of the experienced Shoaib Malik but ignominiously dropped as well for that game. Despite sporadic bouts of bowling success including three for 26 against the St Lucia Stars, two wickets for 25 runs to end a six-match TKR winning stretch, and another two for 22 in the qualifier, he fought, with his field-placements, and, to regain full form, finesse and fire in this sixth annual 20/20 tournament.
With a punishing and tight schedule of 34 matches crammed into a formidable five weeks, the competition was also marked by numerous disappointing and dismal umpiring decisions that drew definite derision and disgust. Becoming the new target of vicious online abuse after he failed with the ball costing Guyana Amazon Warriors (GAW) 47 runs in three overs, in a rain-washed low-scoring final clinched by TKR at home, Emrit, unlike the insouciant, dancing DJ Bravo who managed two for 30, looked like he wanted to cry when Guyana choked for the fourth time.
The widely circulated image of the disconsolate bowler slumped in misery following another dropped catch, slouched on the muddy field with his head bowed, knees up and arms crossed, seemed to symbolise in all its poignancy, pain and power, the public humiliation of a proud man already beaten and a tantalising team that never quite melded into a cohesive unit, about to be soundly defeated.
Guyana would lose seven wickets for a shameful 55 runs as the equally split band of overseas and local players mustered a paltry 147. Yet the opprobrium was reserved for the lithe Emrit  made a strange scapegoat and forced to take the unusual step of responding to fanatics who no doubt nurse nationalistic cricket conspiracies since they competed to accuse him of throwing the last game. In a Facebook post on September 17, he wearily acknowledged, "I don't really have to say anything, but I just thought I should. This has been the toughest CPL for me since it …begun. I personally didn't get the results as a player and I know I'm much better than what I have shown, but "the best players in the world go through these patches."
While "I don't even have to say how hard I have worked and all the sacrifices I have made," the stung Emrit added "The people who want to blame me for every time we lost a game I understand because you think I should be the one to get us over the lime," insisting, "I never once go into a game and not give 150%" and snapping "so please all the small-minded people with your smart comments keep it to yourself. "
He pointed out, "The Guyana Amazon Warriors have been to the finals four times now and that in itself is an amazing achievement yes we haven't crossed the line yet but I'm sure we (will)." Thanking his fans, teammates, "haters" and his family he appealed to his detractors, "Take some time out and stop the bashing for a minute and reflect what a great job this team has done without anyone giving us a chance…(at the start of even reaching) the final."   
The Urban Dictionary defines the slang "cricket fan" as "a silly or stupid person" who "lacks judgment or sense." Another term, "cricket cursed" refers to "the phenomenon where a cricket player leaves their cricket attire out to dry overnight and a series of 'evil spirits' sneak into the kit and curse the player." Haunting the West Indies, no doubt in the past decade and now widespread in South America, these awful apparitions apparently "cause poor batting (usually scoring 0 runs), terrible fielding and erratic bowling" and "can only be discouraged from the 'whites' by a strong and serious threat of burning."
Meanwhile, "cricketicide" is killing the other spirit of the game by sledging, false accusations and flawed appeals, no doubt helped by blind umpires, disturbed do-gooders and learned lexicons. Two young women fans who may have had far too many deadly "spirits" to deal with and ended up shamelessly carried away by an unlikely victory, were certainly guilty of committing clear "cricketicide" recently at a TKR/GAW game in Guyana. Encouraged by onlookers, they were filmed in a hazy video dancing on a slip of a Trinidadian flag, that left Bravo and many others really seeing red.
"I just have one message for Guyana: Put some respect on our national flag – red, white and black, it means a lot to us. To my team, well done this victory is for TT," he asserted bluntly in front of the screaming stands of red, last Sunday. Earlier, the Guyana National Sports Commission called on the unknown pair to apologise, condemning "the mistreatment of the national flag of any country" and advising fans to not sow "discord and disrespect." It urged that  such "sacred symbols" be afforded dignity in keeping with (the much elusive) "spirit of love" for CARICOM sister states, "the spirit of cricket and sporting competitiveness."
However, some angry Trinidadians were having none of it, demanding that all the illegal "mud-heads" resident in the twin-islands be deported, and the last massive Guyana-debt write-off be rescinded. All this, as the Prime Minister Dr. Keith Rowley, under pressure from the impending closure of the debt-ridden state-run Petrotrin Refinery and the loss of thousands of well-paid jobs, prepared to come calling, seeking a fresh Memorandum of Understanding (MOU) and assurances about profitable inclusion in the upcoming oil industry. Guyanese bloggers snorted about the PM's real intentions and the hard detention benches to rival the rude immigration officers at Piarco. In other words, it was business as usual and spirits galore, but just not cricket.    
ID revises "scapegoat theory" or the tendency to blame others, especially outsiders for problems. She recalls the Biblical goat banished as the "carrier of sins" and the 15th century rooster accused of laying an egg that was put in the dock; when his defence counsel failed to prove that it was an involuntary act, both were burned at the stake
Around the Web