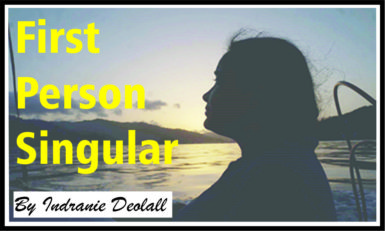 As elegant beauties go, she is extraordinary and unforgettable. Yet only a fortunate few can claim to have ever met her. Dark, wealthy, complex and voluptuous, the powerful 32-year-old hails from the fertile fields of Skeldon along Guyana's eastern coast watered by the cloudy Corentyne River.
The nearby estate, not so long ago the area's biggest employer, famed for its sugar remains shuttered, disgraced and  up for divestment as thousands of unemployed cane cutters struggle to care for their families. A modern monstrosity to hubris, its' ultra-expensive Chinese-built factory is a bitter blue reminder of the enduring excesses and foremost failures of the last free-spending administration.
While the Berbician's full origins remain mysterious, she eventually ended up on the other side of the world in the port city of Genoa, Italy borne away by a charming raconteur with an eye for the exquisite, a nose for opportunity and a thirst for adventure. Describing her in superlatives as "magical" and "incredible," a spellbound Swedish critic, raved about the lingering perfume marked by the muskiness of dark fruits, with hot hints of the tropics, and clear chords of caramel, cocoa and coffee.
Worshipped as a cult classic by connoisseurs and cagey collectors who patiently wait years for a glimpse and  then dream even longer about the lingering taste, the "1973 Skeldon" in a plain black bottle carries a distinctive red label that reads "Full Proof Old Demerara Rum" with a remarkable alcoholic volume of 60.5%. The "Skeldon" was in fact distilled in August 1973 by Demerara Distillers Limited (DDL) at its Diamond headquarters, along the river's eastern bank, in a precious twin-column wooden continuous Coffey still – one writer likened to a towering filing cabinet – the last such surviving "Heritage still" from the Enmore Sugar Estate and the only fully working example of its kind in the world. Several of these old stills and dusty barrels of rum were gathered and stored at the DDL base, as various estate distilleries closed. DDL is certified as the registered proprietor of geographical indication, "Demerara Rum."
"Matured fully in tropical (Guyana) weather" and "Bottled from four barrels in April 2005" by the independent visionary bottler Velier, only 544 bottles of the vintage "Skeldon" rum were issued. In March this year, one finally popped up publicly online at Whisky Auction fetching £4,300 as eight bidders fought over ten days. This was up from the eBay 2012-price of nearly £500.
Irrespective of the Guyana county of source, Demerara rums, celebrated for their deep colour, fragrant body, unique fruity and spicy flavours, and locally sourced high-quality sugarcane and molasses, are so called after the surviving distilling centre now confined along the namesake waterway that stretches for 346 kilometres or 215 miles, high up from the central rainforests down to the Atlantic Ocean.
Brought by Europeans well over three hundred years ago supposedly from the Canary Islands, the sweet grass sugarcane (saccharum officinarum) was ideally-suited for the West Indies, launching a lucrative industry, using African slave labour. A new alcoholic mix, rum would emerge to fascinate the world. It was originally made by hundreds of different sugar plantations all over British Guiana starting in the 17th century, since each had their own still and produced an eponymous estate blend. DDL's story goes back to this time when a group of planters formed a co-operative to export the addictive drink for sea-worn sailors. Over the next two centuries, more estates would close, consolidate or merge, with just a handful remaining after the Second World War.
However, alcoholic beverages date back an astounding 9,000 years. In 2004, an international team of researchers confirmed this through chemical examination of organics left in pottery jars from the  Neolithic village of Jiahu, in Henan province, Northern China. They found a mixed fermented beverage of rice, honey, and fruit, made about the same time that barley beer and grape wine were starting in the Middle East. Liquids, more than 3,000 years old, remarkably preserved inside tightly lidded Chinese ritual bronze vessels, were chemically analysed too, and determined as specialized rice and millet 'wines.' The beverages had been flavored with herbs, flowers, and tree resins.
Today, rum bloggers form a close-knit community where passionate cognoscenti brilliantly analyse and expound on hundreds of fine liquors from Anguilla to Venezuela, sharing stories, samples and secret trades, fighting in forums and Facebook clubs, rather than the rowdy rum shops of lore. While they may argue about which is the world's best, and whether the Appleton array is tastier than DDL or Banks DIH, or the Jamaican brew is smoother than the Martiniquean medley, they all acknowledge the Caribbean's treasure chest of stunning rums.
They also recognise the outstanding contributions of two men, Velier's versatile Luca Gargano, now in his late 50s and DDL's founding-magnate Yesu Persaud, who retired as its legendary Chairman in 2013, and is 90. Gargano would recall visiting Guyana where "I met the greatest man when it comes to rum: Yesu Persaud; First I started importing their brand El Dorado, then Yesu took me under his wing." In 2003 Luca gained the invaluable opportunity to choose among the many prized barrels stored at Diamond, and Velier's line of rare full proof, unadulterated rums like the "Skeldon 1973" and the later "Skeldon 1978" savoured by purists everywhere were born.
Two weeks ago, Gargano invited a select group of writers, rum enthusiasts and journalists, including the best rum blogger around, "The Lone Caner" Lance Surujbally, to his event described as "The Rum Tasting of the Century" at The Four Seasons Hotel in the United Kingdom. Arranged to mark the launch of the La Maison and Velier distributed Hampden Estate Rums from Jamaica, it featured among others, the "Harewood 1780" from Barbados, the oldest dated rum in existence, Martinique's "Saint James 1885" another of the aged brews, and the "Skeldon 1978" from Guyana.
 According to Harewood.org, in 2011, whilst preparing an inventory of wines and spirits in the dark cellars of Harewood House, in Leeds, family descendant Mark Lascelles and a colleague found something they did not expect. "At the back of the farthest cellar they saw two dusty shelves, upon which sat some mysterious looking bottles. Barely discernible under a thick coating of cobwebs and mold, the bottles were black with age, and so toxic looking (both men) were wary about touching them without gloves! Very carefully, they brushed off the layers of dirt. They sniffed the contents with caution."
In December 2013, 12 bottles of this 1780 Harewood Rum made by the Lascelles' slaves on their Barbados plantation went up for sale at Christie's in London. Bidding started at £1,000 and quickly escalated. Six bottles of the Light Rum were snapped up for nearly £25,000, with the last bottles of Dark Rum going for £7,000. A year later, "the final sale was even more astonishing. The last 16 bottles sold for a total well in excess of £100,000 making Harewood Rum officially not only the oldest, but also the most expensive rum in the world."
The proceeds were donated to the Geraldine Connor Foundation, a charity named after the late Trinidadian theatre director, which helps young people in performing arts.
ID marvels at the longevity of sacred Chinese alcohol, citing the University of Pennsylvania's archaeo-chemist Dr. Patrick McGovern's observation: "The fragrant aroma of the liquids inside the tightly lidded jars and vats, when their lids were first removed after some 3,000 years, suggested that they indeed represented Shang and Western Zhou fermented beverages."
Around the Web