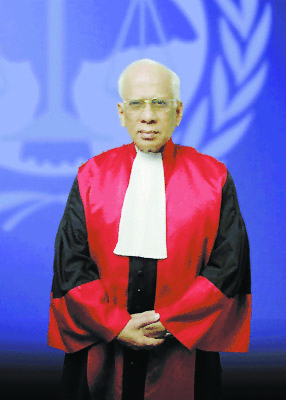 Renowned Guyanese jurist Dr. Mohamed Shahabuddeen SC, who served as the Attorney General of Guyana and a judge on the International Criminal Court (ICC) died on 17th February, in Canada, where he resided, and will be remembered for his contributions to the legal fraternity.
"He was a man of great intellect and tremendous scholarship and he is one of the greatest lawyers Guyana has produced. He is among the top three or four that Guyana and the Caribbean region have produced," Senior Counsel Ralph Ramkarran told Sunday Stabroek. He also said that it was "a great shame that he was not appointed the first head of the Caribbean Court of Justice, a post for which he was available."
Born on October 7th, 1931, Shahabuddeen graduated from the University of London with a Bachelor of Law Degree in 1953. In 1958, he earned his Master of Law, in 1970 he earned his Doctor of Philosophy and in 1986 the title of Doctor of Law.
Justice Shahabuddeen began his public service as a Magistrate before joining the Chambers of the Attorney General in 1959. In 1962, he was appointed Solicitor General, a post he held until 1973, when he was elevated to the position of Attorney General. He served in that capacity from 1978 to 1987. In 1983, he was appointed Deputy Prime Minister and Vice President of Guyana.
From 1988 to 1997, he served as a Judge of the International Court of Justice in The Hague. Subsequently he was a Judge and twice Vice President of the Yugoslavia Tribunal until 2009. Additionally, he had been an Arbiter in the ICC, also in The Hague, since 1997, and at the Centre for International Arbitration in Cairo. In January, 2009 he was chosen as a Judge of the ICC.
Justice Shahabuddeen, authored several books, including The Legal System of Guyana (Georgetown, 1973); Constitutional Development in Guyana, 1621-1978 (Georgetown, 1978); Nationalisation of Guyana Bauxite (1981); and From Plantocracy to Nationalisation (1983).
In recognition of the distinction and eminence achieved by him in the service of Guyana at the regional and international levels and in the fields of law, diplomacy and politics, he was awarded by the Government of Guyana, the Order of Excellence in 1988, the Order of Roraima in 1980 and the Cacique's Crown of Honour in 1970.
Justice Mohamed Shahabuddeen will be remembered for his distinguished service as an eminent Judge of the International Court of Justice, lawyer, public servant, politician and diplomat.
A Footnote
It is almost certainly not without significance that the passing of Dr. Shahabhuddeen coincides with Guyana's efforts to lay to rest, once and for all, the issues arising out of Venezuela's territorial claim against our country. Of, the late legal luminary another distinguished retired Attorney General and Secretary General of the Commonwealth, Sir Shridath Ramphal wrote:
"'Shahab', as we all called him, was a symbol of something else — his work to preserve our country against the sadly outrageous claims of Venezuela. As news of his passing reached me, I was actually working with Guyana's legal team to submit our Application to the ICJ for justice under law. Fifty years ago, in the Mixed Commission, 'Shahab' had been holding the line valiantly against Venezuela's strivings to keep Guyana away from the ICJ. As he left us yesterday, he knew that his efforts had finally prevailed — that SG Guterres had determined days before that the ICJ is indeed the means to be used next for finding a solution. It was the consummation he would have wished."
Around the Web