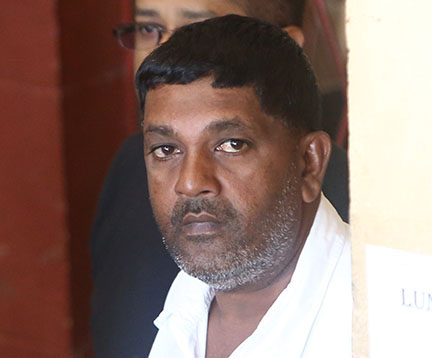 A Canal Number Two Polder farmer was yesterday remanded on charges that he aided in the attempted trafficking of over 100 pounds of cocaine and offered a bribe of almost $1.5 million to a Customs Anti-Narcotic Unit (CANU) for his release.
It is alleged that Rajesh Kissoondyal, also known as Paddle, 47, between April 1st and April 21st, 2016, at Lot 37 Yarrowkabra, Linden-Soesdyke Highway, knowing or having reason to believe that sheets of plywood contained narcotics, to wit 48.554 kilogrammes (107 pounds) of cocaine, handled same with a view of procuring the commissioning of trafficking in the said narcotic.
Kissoondyal, of Lot 12 South Section Canal Number Two Polder, West Bank Demerara, who was arrested while at a funeral last Friday, was not required to offer a plea to the charge.
Meanwhile, Kissoondyal and another man, Shamkumar Hariprashad, 38, of 67 Alliance Canal Number Two Polder, West Bank Demerara, were also charged with attempting to pervert the administration of the law by offering a bribe to a CANU officer.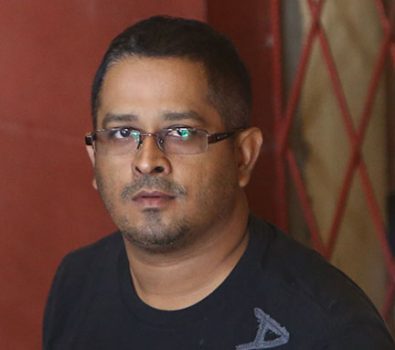 It was alleged that on January 5th, at Homestretch Avenue, they attempted to bribe CANU officer Lyndon Thompson by offering him $1,495,000 for the release of Kissoondyal.
They both pleaded not guilty to this charge.
CANU prosecutor Konyo Sandiford objected to bail being granted to Kissoondyal, while noting that he may be a flight risk. The prosecutor further stated that a charge was filed against Kissoondyal but he never made an appearance at court and the proceedings were withdrawn after unsuccessful attempts to find him.
Sandiford also objected to bail being granted to Hariprashad, while stating that he, too, may be a flight risk and could also tamper with witnesses in the case.
As a result, Chief Magistrate Ann McLennan remanded both men to prison and adjourned the matter until January 25th.
In April, 2016, the Guyana Revenue Authority (GRA) along with the Port Control Unit were in the process of examining a consignment of plywood destined for Florida in the United States of America when an examination uncovered anomalies. The GRA said that further examination and testing revealed cocaine concealed between the approximately 320 sheets of plywood.
Around the Web