"The Grinch come and he thief Christmas and the other holidays," residents from Enmore and its environs proclaimed as the workers retrenched from the estate and their families begin to feel the squeeze.
Vibrant and busy are two of the words that residents of Enmore say are the first that come to mind when they are asked to describe their community. However, over the last few months, the residents say they are now being forced to change the way they describe and view their community as it is becoming a "ghost town."
"When they had the estate running, even when the workers were in the backdam, you would see people up and down the road all the time. The shops would be filled with people doing their business, buses going to and fro. Now, hundreds of sugar workers are home but the streets are clear. You don't have people coming out of their house and that shows the level of their discomfort," community leader, Taajnauth Jadunauth told Stabroek News on Tuesday.
Despite it being just two weeks since the last worker clocked his time at the estate, Jadunauth said that the  community, which has been heavily dependent on the sugar industry, has already started to feel the brunt of its closure.
"You're depressed and you don't want to come outside because you are afraid you might have to spend money, money that you don't have. This is the mood that is now overtaking the people and they have already underspent during the holidays," he added, while pointing out that from an initial survey, he was able to conclude that businesses' earnings in the area have decreased by about 40%.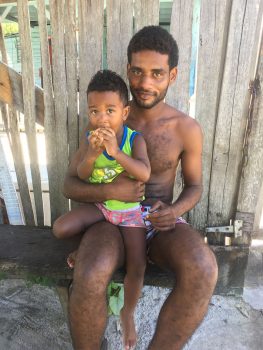 This drastic decrease, he said, can be linked to the closure of estates, which are forcing the residents and ex-sugar workers to save more and spend less, and the fact that the majority of the workers are yet to receive their severance pay.
"There is nothing to do. I'm just here studying where to get a new job from. I don't have any work right now and things hard all around," 22-year-old Kishan Wilkinson, who gave some four years of his life to the Guyana Sugar Corporation (GuySuCo), related to this newspaper on Tuesday.
Unlike the majority of the residents who shut themselves in their house and left the streets of the community bare, Wilkinson, along with his two-year-old son, his father and other family members were sitting outside enjoying the cool breeze.
"The Christmas season was bad. It was like the Grinch come and he thief Christmas and the holiday because people don't have money and didn't do anything like they normally would. I haven't even had a Christmas cake for the holiday yet because we couldn't afford them kind of luxuries," Wilkinson said.
He explained that while his last working day was on December 31, he is yet to receive any definitive word about when he is going to get his severance pay and every time he enquires at the office he is usually taken through a "runaround" with vague answers.
"They say they are going to call when the money ready but that's all they telling we. They say before the end of the month but nobody knows for sure. I have a two-year son that I have to take care of and other family and I don't know how I am going to do it. I am thinking of going back in the bush and find work because here and town don't have anything," Wilkinson said.
Another 25-year-old ex-sugar worker who identified himself as Junior explained that the Christmas season and beginning of the year has been very tough for him and he has not experienced such a struggle during his working life.
Place so dead
"You know what was going to happen but you didn't think it would've been so bad. I never see Enmore like this in my life. The place so dead, people home but nobody wants to come out. The shops used to be full at nights but now you hardly seeing people anymore," Junior said, while also pointing out that despite searching for a new job since the beginning of December he has been unable to find one.
"Well everyone was aware that they were going to start laying people off so some people start looking for wuk early but onto now nobody can't find anything. You ride up and down whole day in the community looking or you go in other communities but there's nothing. Some days you don't even feel like coming out and go look because you know what's going to happen and you not going to find anything," he added.
A vendor who used to sell in the market explained that she was forced to stop selling because of the drastic decrease in business.
"If you go out there [market] on a Friday when it used to work you'll see how it is now. People barely bringing anything out because people know nobody won't come and nobody ain't coming because people don't have money to spend," the woman said.
Business owners also shared similar sentiments to Jadunauth's and agreed that during the Christmas season when sales are expected to increase, there was a notable decrease.
"It wasn't just the decrease in sales, people were only buying things they needed. You know around Christmas you shop and you spend on other things but people weren't buying those," one shop owner related.
The residents say that they are expecting more grim developments for their community, given that it has been just weeks since the estate officially closed its doors and the village is already feeling the effects of the estate closure. They also pointed out that since the new year started there has been a significant increase in petty crime, which they attribute to the lack of jobs and decrease in the flow of money.
One resident pointed out that the absence of severance pay to the majority of retrenched workers is creating a feeling of uncertainty that reverberates through every section of the community.
Around  4,000 sugar workers from the Enmore, Rose Hall and Skeldon estates were handed severance letters at the end of December. The Wales estate was closed at the end of 2017 and hundreds were affected then.
Around the Web