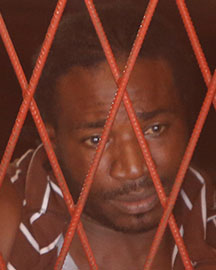 A Mocha resident was yesterday remanded to prison by a city magistrate after he was charged with three counts of armed robbery.
Nigel Wellington, 35, who has previously faced charges, appeared before Chief Magistrate Ann McLennan and denied the crimes.
The first charge against Wellington stated that on December 20th, 2017, at Well Road, North Ruimveldt, while in company of another and armed with a gun, he robbed Vanessa Albert of a Samsung smart TV, a $TCL TV, a Samsung 7 Edge phone and a gold ring. The stolen items were valued at $570,000 in total.
It was also alleged that on the said date and at the same location, Wellington robbed Ezekiel London of a $90,000 laptop and 2 iPhones, valued at $160,000.
The final charge read to the accused stated that on January 4th, 2018, at North Ruimveldt, while armed with a gun, he robbed Simona Hopkinson of two gold rings valued at $84,000, three gold earrings, valued at $25,000 and a $75,000 flat screen TV, total value being $184,000.
Police Prosecutor Sumeil Evans, who noted that none of the stolen items were recovered, objected to Wellington being granted bail, while citing the seriousness and prevalence of the crimes as well as the fact that a gun was used in their commission.
Evans also said that additional charges were likely to be brought against the accused.
Wellington was then remanded to prison by the Chief Magistrate and the matter was adjourned until January 26th, when it will be heard before Magistrate Leron Daly.
Wellington has other matters of a similar nature currently before the courts.
Around the Web