The Parfaite Harmonie Access Road is once again riddled with potholes despite undergoing maintenance and patchwork a little over two months ago by contractor Gaico Construction Service, which has assured that the road is sound.
Stabroek News has been examining the condition of the road for the past several months after numerous complaints by residents and other road users.
The 3.5 km road was commissioned in September, 2014, but has had to regularly undergo repairs as it develops large potholes, which make it difficult for road users to navigate, especially at night.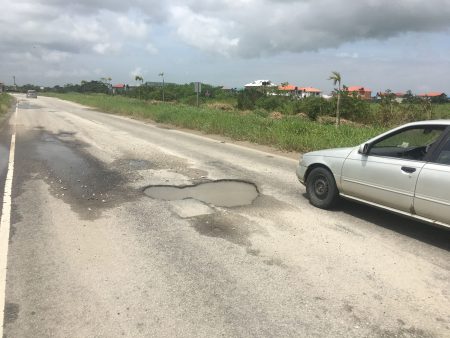 The road is used by buses and other vehicles to gain access to the Parfaite Harmonie Housing Scheme and traffic increased after it was used as a detour when the Bagotville Bridge was being repaired.
When this newspaper visited yesterday, the road was found, once again, with potholes of various sizes around the same areas that were previously fixed.
While some of them spread across one lane, others took up the entire middle of the road and drivers were forced to use the wrong lanes in a bid to avoid them.
"I glad y'all come to show them people what kind of road we does got to use. Watch them holes how they big and deep. You think it bad now? In the night this place does be dark, so if you don't know where these holes are is one drop in. You know how many people does swerve and put them life in danger because of those holes? Nuff," a cyclist, who was riding along the road, related.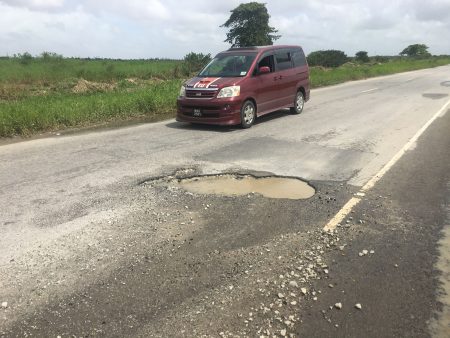 Drivers expressed similar sentiments as they passed while this newspaper was inspecting the road.
"Only the other day this road was patched and repaired and it has gone back to its previous state. It's getting worse every day and very fast. You pass here tonight and come back in the morning and it's either the holes are noticeably bigger or there are new ones. Everyday there is a new one, watch out for it," James Henry, a bus driver, said.
The man related that on many nights his vehicle has dropped into potholes that he wasn't aware of, resulting in major damage. Other drivers had similar experiences and they called for a complete overhaul of the road.
Chief Executive Officer of Gaico, Komal Singh had told Stabroek News that the stretch of road that was built by his company was sound, amid claims by consultant Edward Gonsalves that the road was a failed project.
Gonsalves had explained that one of the reasons for the road constantly developing potholes was because poor quality asphalt was used to build it. He noted that when low quality asphalt is used and vehicles traversed over roads, the tyres force the water between the asphalt, which causes it to disintegrate, forming potholes.
"He put down very bad asphalt. His asphalt didn't meet specifics and it is as simple as that. BK's asphalt (on another section of the project) was much closer to specifications," Gonsalves had said, while highlighting that was used by Gaico was of a poor quality. He said there were fewer patches along the other sections of the road that had been built by BK International.
"He put down asphalt that is of a very poor quality and that is why it developed so many potholes. BK produces asphalt that does not meet specifications but he probably put down a higher quality asphalt than Gaico," he had added.
Singh had confirmed that repairs to the road rarely exceeds $100,000 and that there is currently a 10-year warranty period where all defects will be fixed by his company.
While there have been questions about the road's structural integrity, Singh also explained that those claims are false and the road is "a very solid road."
"That is a very solid road given the load that it takes on every day. When a road has structural problems you will find it sinking and people shouldn't be using those words loosely. If potholes develop then it can be for many reasons like oil on the road. Oil and asphalt don't mix and the oil soften the asphalt road and it becomes vulnerable to potholes. That is why at the end of the day you can't overlook every single aspect when it comes to potholes," Singh had explained, while emphasising that the access road has no structural issues.
Around the Web