Three persons, including the widow of one of the two Pomeroon farmers shot dead on Sunday, have been taken into custody and police say one of them led detectives to the location of an arms cache that allegedly belonged to one of the deceased.
Divisional Commander Khali Pareshram yesterday told Stabroek News that two of persons in custody were arrested on Monday evening while the other was arrested yesterday.
Pareshram said up to yesterday afternoon, investigators were continuing to question the trio. Police are also awaiting the results of post-mortem examinations, which are scheduled to be conducted later this week. "At this point, we are not only working with what was told to us by persons in the area but also the stories that are being told by those in custody," Pareshram said.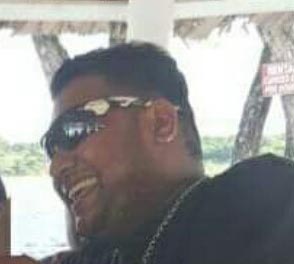 The police have also swabbed the hands of both the suspects and the dead men for gunpowder residue.
Ambrose Baharally, 28, of Grant Stelling, Hope Lower Pomeroon, and Martin Godette, 23, of Friendship Canal, Lower Pomeroon were discovered dead with gunshot wounds to their heads around 3pm on Sunday at Baharally's residence.
The police have said that a preliminary investigation revealed that the victims were seen conversing with the suspects and shortly after two loud explosions were heard and the suspects were seen fleeing the scene in a boat.
The motive for the shooting remains unknown but Stabroek News was told that it might have been drug related and a source from the Customs Anti-Narcotic Unit (CANU) confirmed that the agency is investigating to determine whether the killings are linked to the January 2nd cocaine bust at Pomeroon, where 11 kilogrammes of cocaine were found during a raid.
Meanwhile, Guyana Police Force spokesman Jairam Ramlakhan yesterday said that one of the persons in custody led the police to a location where a bag was found.
"The contents in the bag are a cache of arms and ammunition with a quantity of dried cannabis alleged to be belonging to one of the deceased," Ramlakhan said in a statement.
Among the items discovered were a 9mm pistol, a .38 revolver, sixteen live cartridges, twenty-one live .38 rounds, nineteen live 9mm rounds, six live .32 rounds, two 9mm spent shells and 51 ½ grams of cannabis.
Stabroek News was told that the items are believed to have been owned by Baharally since they were found in an abandoned yard some 40 feet away from his home.
Stabroek News previously reported that Baharally and Godette were drinking at the former's residence when two men pulled up alongside in a boat. The men reportedly exited the boat, greeted Baharally and Godette and started a conversation. Some minutes after, two gunshots were heard by Baharally's wife, who was inside the house at the time.
She rushed out of the house and found her husband and Godette lying on the ground with two gunshot wounds. She then noticed that the assailants had run towards their boat and they escaped along the river.
Baharally's wife then went to get help and the men's bodies were removed and transported to the hospital.
A potential witness, said to be a farmer, who was in the vicinity when the shooting occurred, was detained on Monday to assist with the investigation. It is unclear if he is still in custody.
Godette's mother, Miquel Benn had related to this newspaper that her family knows nothing about her son's death.
The woman had also said since the incident she has been hearing different versions of what transpired.
"The boy that was there say that Ambrose shoot my son [Martin] and after the first gunshot go off he run away then he hear another and by time he return to the scene he see all two of them [Baharally and Godette] lying down on the ground. He say he didn't see no other body or any boat with people escaping as they are saying," Benn had related.
"We don't know exactly what happen because like the boy trying to tell the police what happen but they aint want hear anything," she added.
Benn explained that while she was not aware of any issues between anyone and her son that might have led to his death, she was told that Baharally was known to have threatened numerous persons.
Around the Web